LianTronics, attended the International Signage Association's 2014 Exhibition in sunny Orlando, Florida. It was a fantastic opportunity to showcase LianTronics' newest lines of products fresh out of development. This year, LianTronics customers were introduced to a wide variety of versatile and intuitive solutions for both indoor and outdoor applications of signage.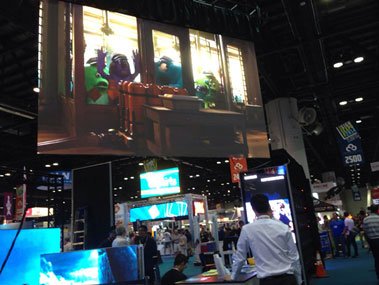 Guests were met with an indoor high resolution video panel fresh from our rental series. The R4's 4.8-millimeter pixel pitch is the ideal solution for very close viewing distances, and makes it possible to reach true HD resolution with less overall size. The product is lightweight, modular and easy to install making it ideal for rental and production companies. Its clean and uncluttered back panel allows for a better aesthetic as well as convenient access for maintenance.
Visitors also got the chance to see LianTronics' Vme Series(V1.9) first-hand — attendees were encouraged to stop by and were surprised by our new technology. The HD LED display market rapidly emerged from recent developments in the industry, and LianTronics is more than happy to meet the demand for affordable, high quality displays. V·me Series are born to be a perfect substitute of traditional TV, projectors, and DLP displays, with the modular advantage that LED provides.
Their image clarity, astounding brightness, turned heads and really set LianTronics apart as a premier provider of high-quality indoor displays!
In addition to our numerous indoor products, clients also had a chance to see the new RK8 series of outdoor rental displays. They were designed as a lightweight, durable and mobile solution, with total cabinet weight reaching only 13.5 kg. Clients were also able to see the new M series cabinets, a set of outdoor rental units with low wind and sound impedance.
This year, ISA welcomed in excess of 20,000 visitors and next year the number is set to rise. The show is so vast that clear digital signage is essential for crowd management and a more pleasant tradeshow experience. LianTronics will offer a large range of LED video and messaging display technologies that feature a long lifetime with minimal maintenance and low power consumption, providing value and excitement for years to come.
Our next stop will be at LED Expo 2014 in Peru. Our booth number is V-02. With our exciting products and industry-leading service, LianTronics will be sure to turn a few heads. Feel free to stop by and visit us there!