Adhering to the philosophy of "to keep improvement client-Oriented and give more than expected", Liantronics has established strategic partnership with more than 20 advertising agencies,TV stations,performing arts companies,media companies, exhibition agencies and so on, and has become the first company which had provided professional stage display solutions for more than 500 events and gained 100% success rate.
Highlights Innovation for 100,000 people parade square of the National Day
In the people parade programs of the 60th anniversary of National Day celebration, about 100,000 young people had showed 41Pictures, with 49 times changing text and background patterns, which is the largest number of previous National Day celebrations. Performers used props, including inverted flower stand, peach, peony flowers, wheat, props package, seven-color light garlands, colorful flags, red flag, and canvas, etc. In order to command the background performance silently for this enormous performance, Liantronics had been chosen the only supplier and finally designed 32 suites of Command and Control Systems. Each includes 1pcs PH10 single-red display (Dimension: 640mm X 960mm), a high-brightness red LED light and a yellow LED light.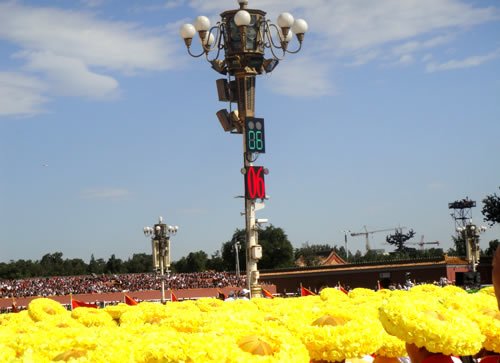 Besides, Liantronics has specially supplied 4pcs LED displays for three floats in the floats parade, they are Ministry of Health floats, Ministry of Education floats and Fujian Provinces floats.
Special LED display solution for Hong Kong pavilion Of the World Expo 2010
Hong Kong's eye-catching stand-alone pavilion is designed for highlighting the theme of "Hong Kong – Potential Unlimited". The Pavilion showcases Hong Kong's creativity, as well as our connectivity with the Mainland and the rest of the world, the connectivity of ideas and information, and the connectivity of nature with the built environment. To enhance this theme, they chose Liantronics' high-definition and high-brightness LED displays, including 15pcs PH16mm outdoor full color displays and 14pcs PH6mm indoor full color displays.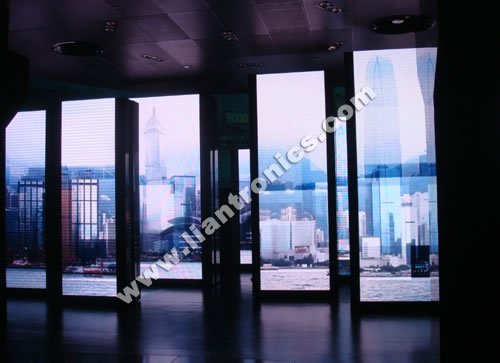 The entrance features all the outdoor screens, equally divided into three parts, each showing a combination of pictures such as night view of Hong Kong, bauhinia, subway, etc. In the garden of the pavilion, all the indoor full color screens are arranged in picturesque disorder, displaying the picture of the skyscrapers, the sea, modern architecture, Chinese traditional opera, modern dance, bustling and noisy city, beautiful rural scenery, etc.
Liantronics has been chosen the only supplier for China International Hi-Tech Fair(CHTF)in two consecutive terms
The China Hi-Tech Fair (CHTF) is a state-level, international hi-tech event held annually in October in Shenzhen. It is approved by the State Council of the People's Republic of China and jointly hosted by nine government departments and Shenzhen Municipal People's Government. Since its inception in 1999, the CHTF has provided a platform for technology companies all over the world to showcase their technological achievements, exchange information, identify collaboration partners and explore business opportunities, known as" China Science and Technology First Exhibitions." It is one of the most influential events for high- technology sectors on the Mainland.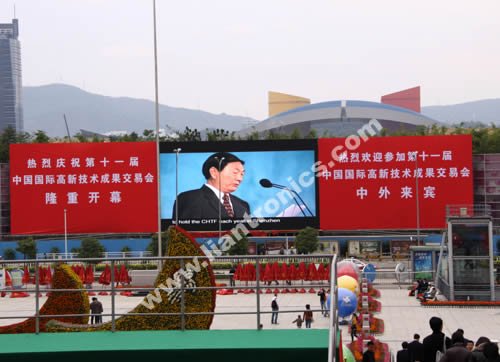 Outdoor full-color LED Screen in the 11th China International Hi-Tech Fair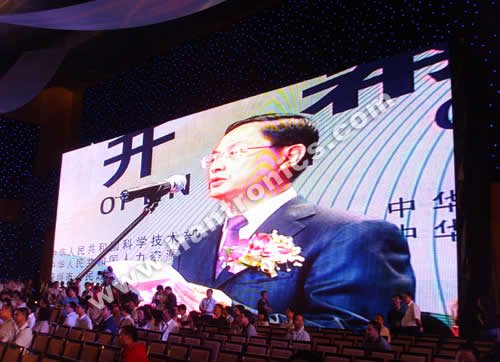 Outdoor full color LED Display Rental in the 10th China International Hi-Tech Fair
Due to its high-quality products and a great deal of successful installation experience, Liantronics has been the only supplier for the 10th and 11th China Hi-Tech Fair. The LED displays we offered were mainly used for broadcasting live events, videos of the previous CHTF and Shenzhen development. They are high-definition, high-brightness, high-stability and energy-saving. At last, the CHTF Organizing Committee gave Liantronics high praise.
LED display rental in the 100th Chinese Export Commodities Fair
The opening ceremony of 100th Chinese Export Commodities Fair (Canton Fair) was held in Guangzhou on OCT.15th 2006. This ceremony was held by CCTV which is No.1 TV station of China. In order to show the splendid scene of the Fair, the host rent Liantronics PH20 full-color display as the media of ceremony. The size of the display is 350m2, which is the largest rental display in China.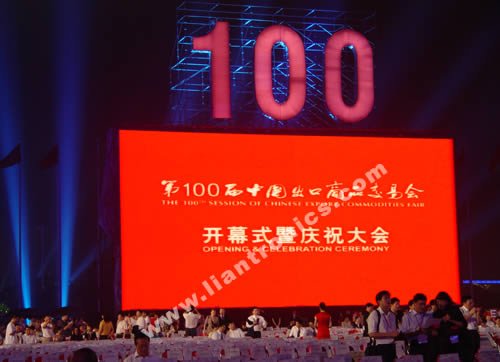 In order to ensure the opening ceremony not to be delayed, our engineering staff worked all night for several days, and completed the installation and debugging on time. Our efficient work style and rich service experience were highly appraised by organizing committee of Canton Fair.
Cheering for Jackie Chan concert in the Bird's Nest
On May 1, 2009, a large concert called "Descendants of the dragon: Jackie Chan and friends" concert was hold in the Bird's Nest, and many Asian famous singers were invited to participate in the concert.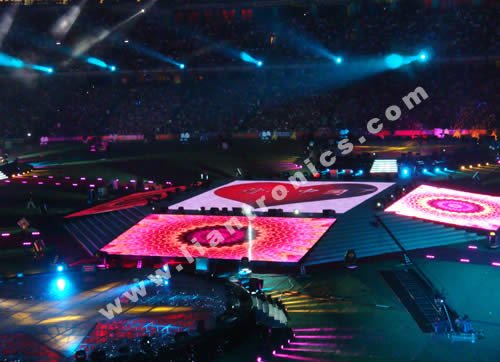 Liantronics took the responsibility of the stage LED display project. Our displays were located in the stage center surrounded by two giant screens above bird's nest to achieve 3D conversion. The project used the specification of PH16mm and PH20mm full color LED display, with a total area of more than 500sq.m, not only high-brightness, high-definition, also has automatic brightness adjustment, adjust the brightness of the screen according to the ambient brightness, gamma correction technology for truer pictures, 16-bit gray scale, even if decreasing brightness without gray loss, above virtues ensured Jackie and his friends' music festival splendid.
Liantronics highlighted the 18th anniversary day of Turkmenistan independence
Oct. 27, 2009, was the 18th anniversary day of Turkmenistan independence. In this celebration, Liantronics has offered 7pcs LED displays and LED floor tiles, including 1pcs PH10mm indoor full color LED display with size of 74.34sq.m, 4pcs PH16mm outdoor full color LED displays with total size of 66sq.m, and 2pcs PH37.5mm LED curtains with total size of 80.64sq.m, and more than 2000pcs LED floor tiles. The PH37.5mm LED curtains were install LED in Turkmenistan's stadium, and all of the other LED displays were install LED in the stage of Turkmenistan''s Presidential Palace.
High-brightness and high-definition LED display in several well-known TV New Year's Gala
Till now, Liantronics LED display were used in more than 20 well-known TV stations for their New Year's Gala, including CCTV3, CCTV5, CCTV6, CCTV7, Beijing TV, Shandong TV, Hainan TV, Anhui TV, Jiangsu TV, Shenzhen TV, Hangzhou TV, Shenyang TV etc.
LED Display for Hainan Spring Festival Gala
Known as "high-definition, high-stability, high-brightness", Liantronics LED display worked normally without any accidental phenomena appeared such as blank screen or flicker at each evening party, even under low brightness, the image is still vivid. The most significant point is the giant LED display can change frame depending on different scenario. All the programs followed corresponding background frame, which made the Spring Festival Gala more colorful and exciting, giving audience unprecedented visual impact.
Vivid color LED display in the 50th anniversary day of Guangxi Zhuang Autonomous Region
December 11th 2008, there was a major celebration for the 50th anniversary of the founding of Guangxi Zhuang Autonomous Region in the capital city, Nanning. The Mingge Square, where was richly decorated with two large outdoor full color LED displays made by Liantronics, and the total area reaches 180sq.m. The 2pcs displays were lighting the whole square with its vivid color videos and pictures, and added happy, harmony and auspicious festival atmosphere.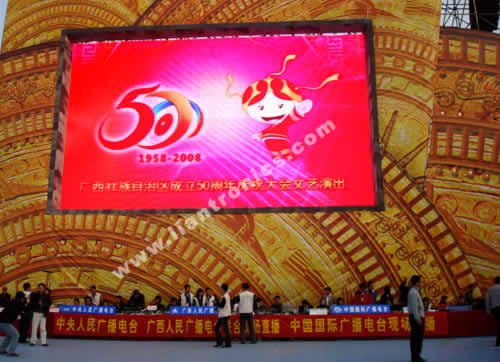 All these excellent LED display cases are also encouraging us to adhere to the philosophy of technological innovation, pay more attention to strengthen product quality management and improve service quality. We will try our best to design and provide our clients with high performance-price ratio LED display products.