Integrated Systems Russia 2015 was a 3-day event being held from 28th October to 30th October 2015 at the Expocentre Fairgrounds in Moscow, Russia. This international event showcased professional AV systems and industrial products, acting as a business platform for effective communication and experience exchange in audiovisual field. As Russian audiovisual, information and audiovisual technologies market steadily increases, Integrated Systems Russia 2015 has offered more cooperation opportunity to establish business connection between the customers and exhibitors.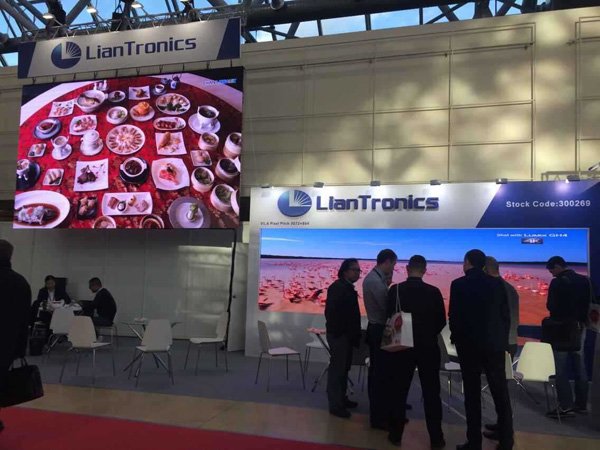 During the 3-day exhibition, a number of potential customers were attracted and came into LianTronics booth by LianTronics international reputation and warmly welcomed by our vigorous sales. Small pixel pitch LED display V1.6 with 64 panels was showcased as a high definition video wall installed at the right side of LianTronics booth, broadcasting the fresh and natural image, which has received high compliment by the viewers. LianTronics technology ensures small pixel pitch LED display could present an unprecedentedly clear viewing experience without pixilated images even when people take a very close look. Besides, installation for small pixel pitch screen is the most crucial and challenging task, but LianTronics V series could be maintained from front side without affecting its flatness by employing single module magnetic design and supported by self-designed maintenance tool. LianTronics R series with the pixel pitch of 3.9mm as the indoor rental LED display was hung high on the left side of LianTronics booth. It is tested and confirmed that over 20 panels of R series LED display could be hung vertically at a time, which could satisfy the need to a maximum extent. R series with pixel pitches ranging from 3.1mm to 6.2mm is designed to satisfy different needs, and it is featured with integrated handle, extremely light and slim panels, and optional magnet design.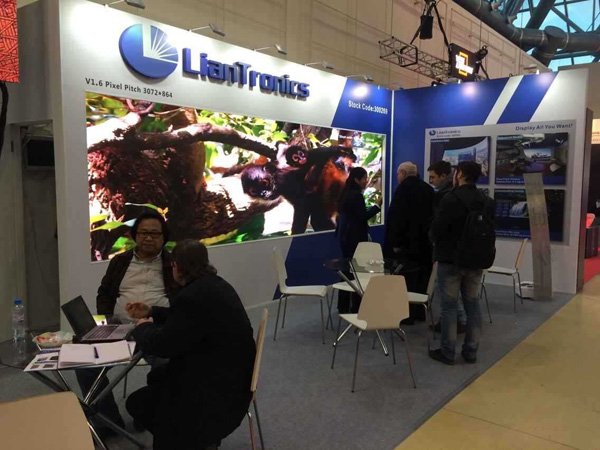 LianTronics always keep the philosophy that customers' decision and requirement are critical in the product designing and producing. The required pixel pitches, software as well as the installation process are what we focus on to make customized project for customers.