Integrated Systems Europe (ISE 2016) which is supposed to be the largest professional AV and systems integration trade show in Europe, was grandly held in Amsterdam RAI from Feburay 9 th to 12 th with the slogan of four days, for you, for your business, for the better! By exhibiting different kinds of latest technological services and products of industrial systems integration, ISE 2016 has attracted professionals from every link in the systems integration value-chain, including manufacturers, distributors, dealers, and contractors over 130 countries worldwide.
With over 18-year experience in manufacturing LED display, LianTronics has attended ISE five years in a row and has continued to stun attendees as always by showcasing its latest design of LED displays as well as professional solution. At this time, LianTronics brought VL1.6, VR2.5, R3Ⅱand R4T which are displayed perfectly to brocast in various scenes with different applications. Exquisite images, high-end appearance, high-quality products and professional service from LianTronics all contribute to win the great praise from attendees.
LianTronics VL1.6 small pixel pitch LED display features with FHD design, seamlessness, high refresh rate, convenient maintenance, excellent heat dissipation and 7.8kg light weight which became one of the most highlighted products in the show. It attracted many professionals to stop by and enquire. Characterized by these superiorities, VL1.6 is a wise choice suitable for commercial plaza, exhibition hall, commanding center, high-class hotel lobbies and other upscale places.
Besides, VR2.5, R3Ⅱand R4T as LianTronics outstanding indoor rental products were also showcased on site. The advantages of fast and easy installation as well as slimmer and lighter design completely meet customers' requirements for rental market. With delicate structure and careful selection of materials, LianTronics LED displays are all in the limelight. Visitors showed their great interests on those new products and discussed with LianTronics salesperson to get more detailed information.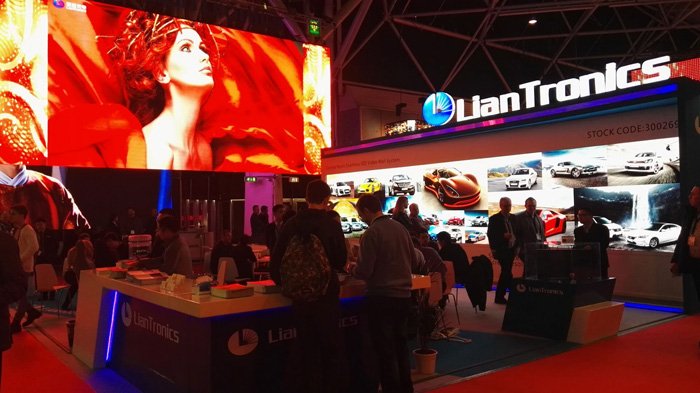 ISE is a great plaform for enterprise to debut products, show the newest technologies, develop business opportunities and widen industry network. During this 4-day show, LianTronics has received both fresh and regular clients,which not only largely promoted company status but also successfully strengthen the cooperative relationship .
Finally, LianTronics sincerely thank you for the visit and support at ISE2016. Our next exhibition is NAB Show in Las Vegas from April 18th-21th. There is no doubt that LianTronics will continue to impress you by presenting a grand visual feast. Looking forward to your attendance!