LianTronics, a global leader among fine-pitch LED display providers, showcase their latest innovations--- VA series fine-pitch LED video wall(PH1.2mm) , RE Series curvable rental screen(PH2.6mm) and V0.8(PH0.8mm) NPP products at NAB 2018. Moreover, this time LianTronics is honored to be the exclusive sponsor for Avid Technology to bring attendees more to experience in visualization.
Industry-Leading, Fine-Pitch LED Video Walls

At NAB2018, LianTronics is exhibiting their industry-leading fine-pitch LED video walls designed for the gamut of broadcasting applications:
·
LianTronics P0.8 screen was absolutely the star product of the exhibition this time, and it attracted all the attendees and clients with unprecedented display effect to become a perfect substitute of traditional LCD and DLP. As we all know, in the LED display industry, even a 0.1mm tighter pitch is a big challenge to a number of LED manufacturers. However, LianTronics has put V0.8 into mass production and projects nowadays with its rich R&D strength and precise manufacturing technology.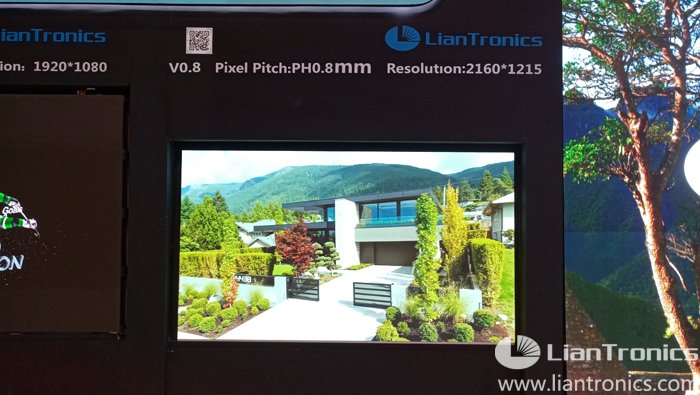 ·
With standard 16:9 panel, VA series can precisely achieve HD/FHD/UHD/SHV resolution just right, and with a 27" diagonal panel size it can become a perfect substitute for any existing 54" or 108" LCD screen. The whole VA installation procedure is as quick as block-building. It supports for both front and rear installation with a panel thickness of only 76mm. Additionally, module, power supply, receiving card, conversion card and cables between panels can all be maintained quickly from the front without professional skills. Moreover, calibration data retrieval function and worry-free parameter back-up function are both embedded in every smart module. Power system, temperature and other working status are automatically monitored to achieve intelligent management. Last but not least, it supports AC-DC and DC-DC two different power schemes to ensure a safe and stable use and best fit your project need.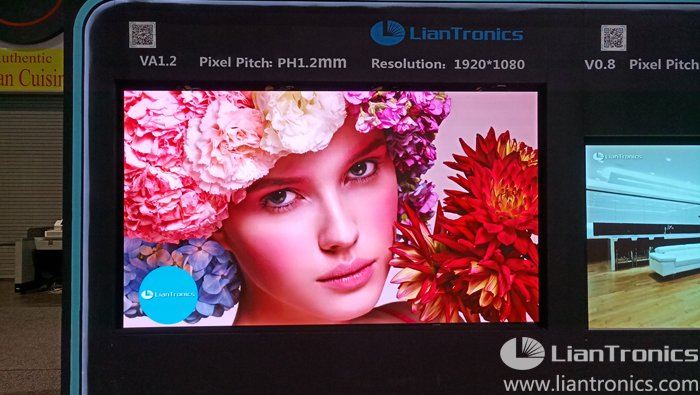 ·
RE series is designed as a fine-pitch curvable screen for rental use. By the use of only one type of panel, RE series can realize your valued creations by being assembled into concave and convex screens from -10°to 10°, and the minimum radius of a circle screen is only 2.85mm long. In addition, its user-friendly design allows you maintain modules and power box from both front and rear according to actual requirements. Besides, there are two different sizes of panels which can be assembled together, and more surprisingly the super compatible RE panels also supports for mismatch splicing from all directions.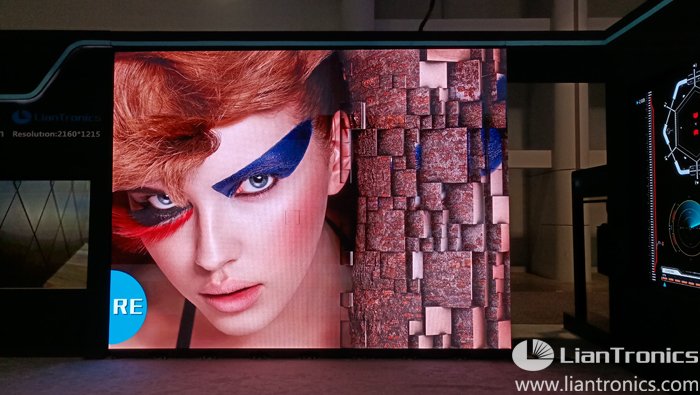 ·
LianTronics classic VL series with a high resolution brought a fabulous visual experience to attendees. The screen simulates the applications in broadcasting studios to bring attendees to the application scenario. Made with aluminum alloy, the 7.8kg light-weight panel is with easy-to-install and easy-to-maintain (front-accessible) designs. Module, power supply, receiving card, conversion card, and cables between panels can all be maintained from the front as well, and the panels can be assembled quickly and efficiently into the common display ratio of 4:3 or 16:9.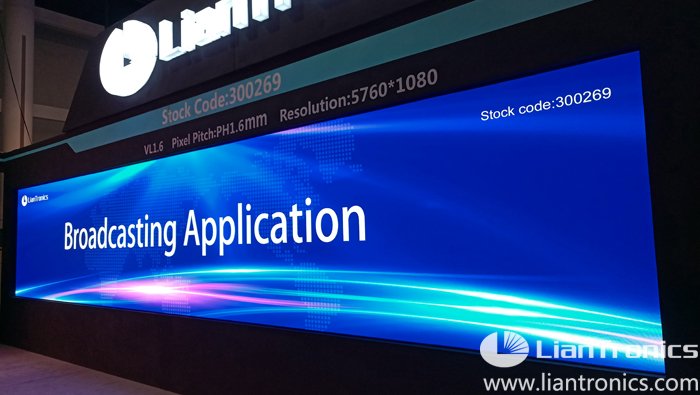 ·
RA series employs high-precision die-casting aluminum structure, light-weight panel as well as modular design. Moreover, it supports for both front and rear maintenance which can enable the engineers finish the change of modules in a few seconds. The patented fast-lock design helps to realize toolless installation. Above all, RA series can be a perfect choice for stage shows, exhibitions, broadcasting situations and events.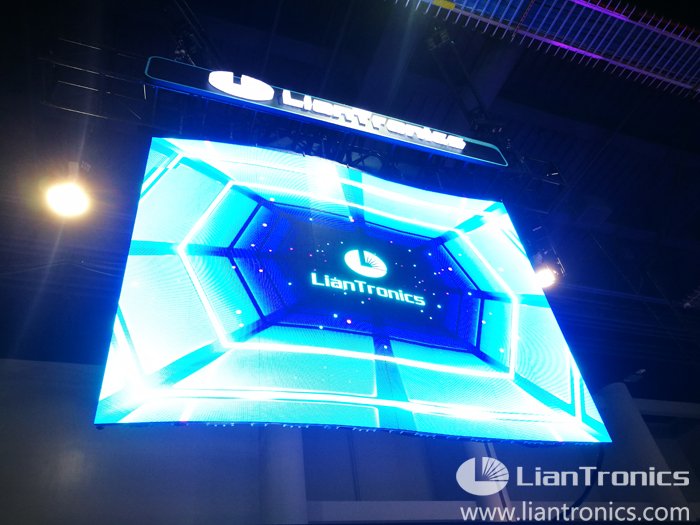 Exclusive Sponsor for Avid Technology
LianTronics is honored to be the exclusive sponsor for Avid Technology at NAB2018. LianTronics RE2.6 LED display rental solution, VL1.2 and VL1.6 fine-pitch LED video wall shine at Avid Cloud Platform Theater. LianTronics fine-pitch LED display solution help Avid vividly presents new cloud services and solutions, which extends the capabilities of the Media Central platform.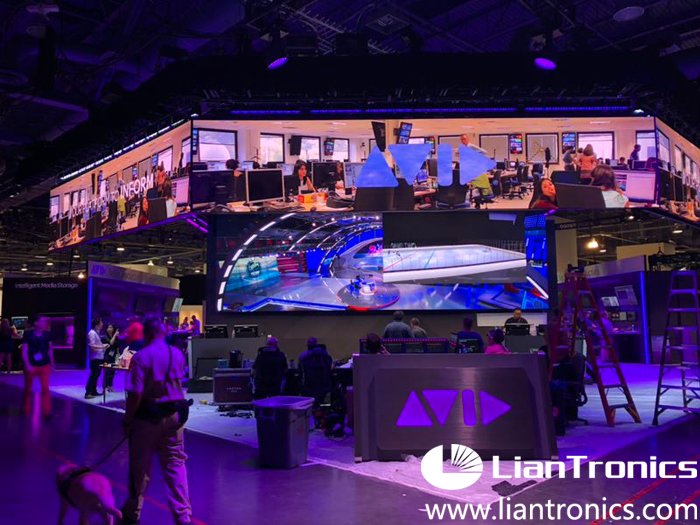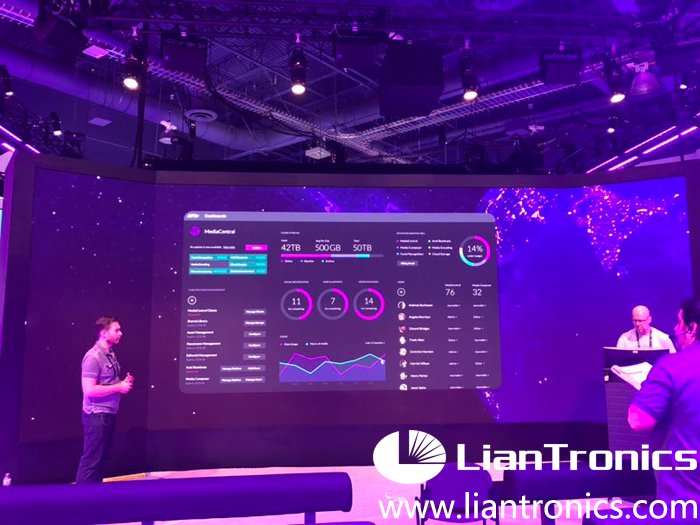 LianTronics Cases of Broadcasting Studio
The high-level industry standards of LED display for broadcasting application requires high performance. First, during shooting, the LED screen is required to display stably and consistently without any flicker. LianTronics fine-pitch LED display featured with high refresh rate and PWM(Pulse Width Modulation) function is able to eliminate flicker to ensure the finest picture quality. Second, the color temperature of the LED display should be between 3000-3600K according to the requirements of radio and television industry, because the image color can be completely presented within this low color temperature range. Based on this, LianTronics can provide on-site service to match the parameter with actual color temperature read by camera to make sure that color of light, background and TV host can all be shown properly.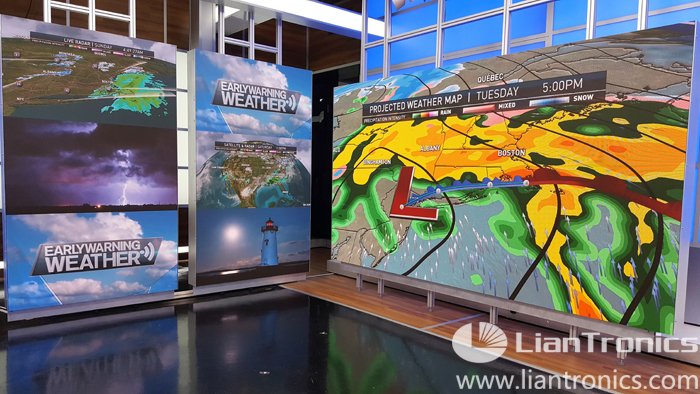 LianTronics VL1.6 Fine-Pitch LED Display for a Broadcasting Studio, USA

LianTronics VH1.2 Fine-Pitch LED Display for Czech Prima Televize
At NAB2018, LianTronics show their capabilities in delivering the image quality, accuracy and flexibility required for modern-day programming. This feast for the eyes will continue until April 12 at booth: SL10605 and Avid's booth: SU801, do not miss it!