As one of the world's leading LED display manufacturers, Liantronics is focused on developing high-quality LED display products for 13 years, and has offered 5,000 worldwide clients with about 10,000 LED displays. Liantronics adheres to the philosophy of "do excellent project, do detail master ", thus has set a top brand in led display industry in home and abroad. The following are some of the industry's first led display projects made by Liantronics.
The 1st energy-saving led display which can save more than 1 million kWh every year
The display was installed in Dinghao Building which is located in the core area of Zhongguancun known as Silicon Valley in China. The width of the screen is 48m, the height is 25m, and the pixel pitch is 25mm. The total pixels of the screen reach more than 2 million, thus it can display 280 trillion colors. It is not only the largest outdoor LED display in Beijing, but also the first energy-saving led display which can save more than 1 million kWh every year.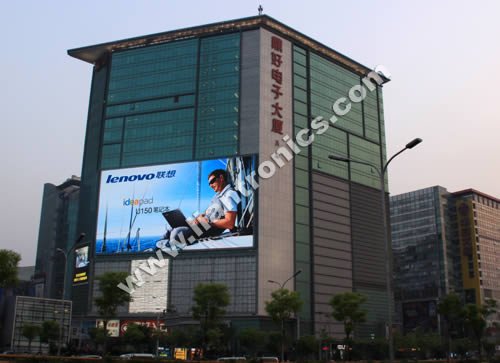 Practical power comparison between energy-saving led display and traditional display
| | | |
| --- | --- | --- |
| Comparison Project | Energy-saving LED Display | Traditional LED Display |
| Pixel Pitch | PH25mm | PH25mm |
| LED Type | CREEC4SMF | CREETPG |
| Brightness | 6000cd/m2 | 6000cd/m2 |
| Average Power Consumption | 303W/M2 | 499W/M2 |
| Size | 1200M2 | 1200M2 |
| Working Time | 13 hours per day | 13 hours per day |
| Total Power Consumption | 1.725 million kWh | 2.841 million kWh |
The largest led display made by Liantronics–Macau Crown Hotel led lighting display
The project was installed for Macao Crown Hotel in Apr.2007, used for issuing the amusement and advertising information. This screen exalted the external appearance and social reputation, promoted various activities and gained high praise from the clients.
The total area of this lighting display is 1500 sq.m. It is the largest led display which Liantronics has offered till now.
Outdoor full color led display in New Giza which was regarded as the Top of the Seven LED Wonders of the World
It is the largest outdoor full color LED screen in Egypt, with 1208 sq.m. From installation, debugging to acceptance, it took less than one month.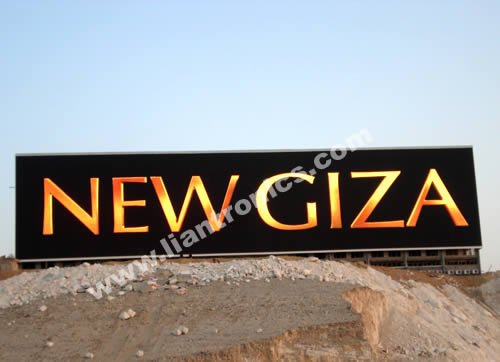 Considering its large size, highland installation and wide view space, our customer constructed a six-storey building as the main body of installation structure to make sure the such a huge screen works normally in such atrocious weather of strong wind, sandstorm, high temperature and dryness. This screen is equipped with CREE EZ series super bright LEDs and perfect protective measures, even the special power generator and 96 air-conditioners.
Using for 5 years with zero maintenance - Indoor full color LED Display for Beijing West Railway Station
It is the indoor SMD full-color display for West Railway Station Beijing, the middle display is SMD Combi-3 PH7.62mm full color led display, covering about 30 square meters. It is used for playing video, advertisement and other information. This screen is not only clear and vivid in color, but also can provide convenient and prompt service to passengers. Besides, it brings a great income from advertising.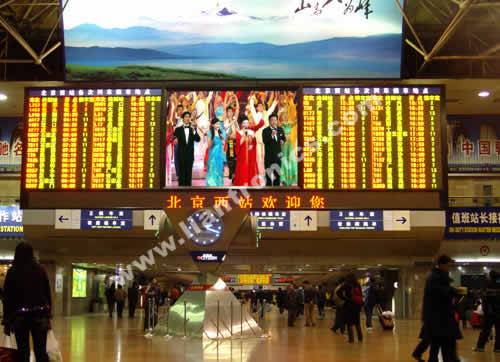 It is unimaginable that it only took 8 days and 3 hours to complete the whole project, from signing on the contract to installation and debugging. Our efficient work created a wonder which exceeded user's expectation.
In the past 5 years, the screen was always working normally and never encountered a failure. It is still zero maintenance.
The largest Outdoor LED Display in Guangzhou
It is a classical high-end led screen project made by Liantronics at the end of 2009. The screen is installed at the top position of Guangzhou Xinhua Bookstore,The width is 66.87m, and the height is 9m,over 600 sq.m,It can save more than 0.6 million kWh each year.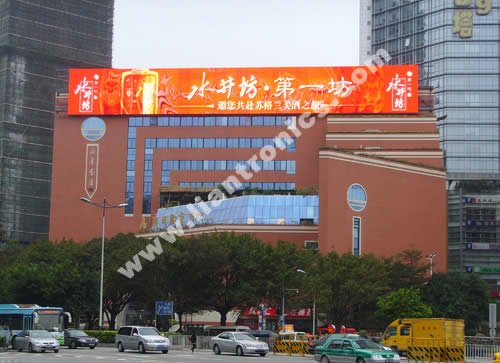 Liantronics always take product quality as the first concern. Without exception, this display gives people a good visual impact because of its perfect color and high brightness. It is honored as "The king of Display" in Guangzhou outdoor media.
Shenzhen Galaxy Century mesh Display has the most difficult installation
This mesh display was installed at the top of Shenzhen Galaxia Century Building, which is nearly 160 meters high off the ground. The model is DM25*50, that means the Horizontal Pixel Pitch is 25mm and Vertical Pixel Pitch is 50mm. The width is 43.2M and the height is 23.2M. It is the largest led display Liantronics has installed in Shenzhen.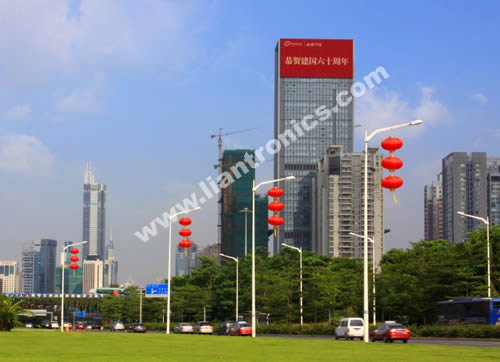 The main features of the screen are ultrathin, super light, low windage resistance and good capability of anti-typhoon. Our skilled engineers with professional installation technology and rich experience have overcome all installation difficulties. Finally they completed the whole project on time.
The 1st led display that makes a shortest period of cost recovery
This screen was installed at the top of telecom tower in Shenzhen Nanshan District. Unique curved design attracts lots of people, and transmits lots of business information. It is the largest and most advanced video media, covering 600 sq.m.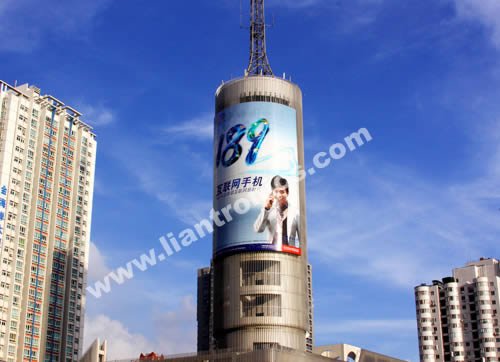 For this screen, Liantronics has adopted several lastest patented technologies and thus it is the largest and the most advanced high-end video media in China at present. It will be on a par with the video advertisement in New York Times Square. So far it has created huge advertising revenues for the customer. It is said that it only takes one year for the customer to gain full cost recovery.
Minimum temperature ---- Full color LED Display in Russia
This project used three kinds of LED displays: PH25mm outdoor display, PH10mm indoor display and PH60mm led lighting display. The outdoor display was installed at the entrance to a mall in Russia, mainly used for improving the shopping image and releasing advertising information.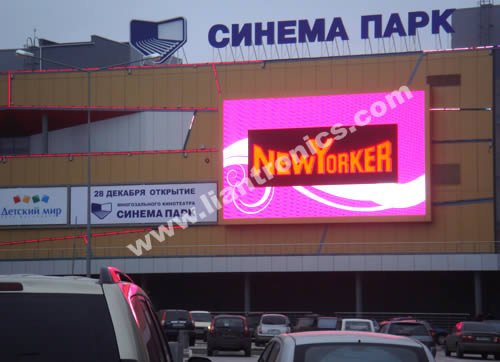 What worth metioning is that the weather in this area is extremely cold. The average temperature is minus ten degrees, the lowest temperature can reach minus 58 degrees. However, our excellent led display is still working normally at present.
Due to its leading industrial status and strong capability of innovation, Liantronics will develop and supply more high quality led display products, and try its best to become one of the top three international brands in LED display industry!