Communic Asia Exhibition, an information and communication technology exhibition and platform for global industry brands to exhibit key and emerging technologies and products, was successfully held in Singapore Marina Bay Sands from June 2 to 5. As a world leading manufacturer in LED display industry, LianTronics is always an outstanding exhibitor to light up every show.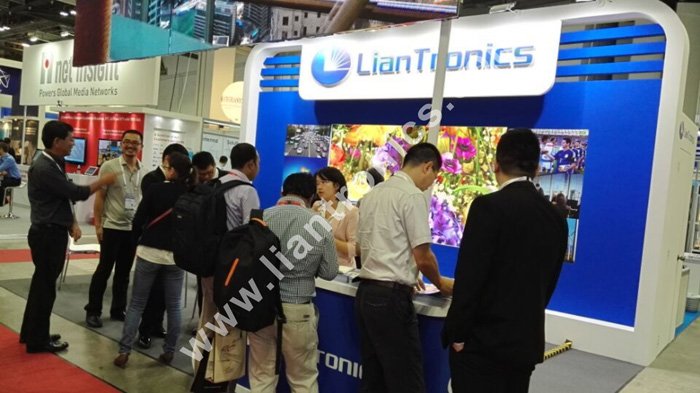 During four-day exhibition, LianTronics has showcased innovative technology and star products, such as the small pixel pitch LED display V series with the pixel pitch of 1.9mm. Based on LianTronics intelligent brightness adjustment technology and super high refresh rate, V series could accurately presents stable and sharp image without ghosting phenomenon, which has highly stimulated customers interest by its fantastic display effect and uniform brightness. Besides, V series is specially humanized that its 160°super wide horizontal and vertical viewing angle could cover more audience and create more opportunities. Concurrently, R3Ⅱ was also well welcomed because of its slim design and convenient installation, which is particularly suitable for stage or rental applications.
Aiming at providing the high quality LED display and excellent service, LianTronics is passionate about exceeding the expectations of the customers. We sincerely invite you to visit our next exhibition infocomm 2015 held in Orlando. We are sure to bring you an unprecedented visual experience.