InfoComm 2015 was grandly held at the Orange County Convention Center, Orlando from June 17 to 19. As the largest professional AV trade event in U.S., InfoComm 2015 demonstrated the latest products and technologies of audio, video, display, digital signage, networking and much more. All in all, it is an extremely crucial show for audiovisual professionals to purchase, to compare and to connect .
As a worldwide leading LED display designer and manufacturer, LianTronics joined and highlighted this show with an elaborately designed booth and showcased the high quality LED display. Many attendees were attracted by LianTronics charismatic booth and products, forwardly coming to discuss with our professional staffs. What greatly impressed and shocked visitors is LianTronics V1.9 with small pixel pitches of 1.9mm, which is seamlessly designed, has a long life span, and could deliver sharp and natural images for audience seated in front rows. With the most advanced technology and cost-efficient idea, LianTronics small pixel pitch LED display has consistent and uniform color even while with low power consumption and low temperature rises. What's more, because the high reliability and innovative design of product, V series is an ideal choice for various public places.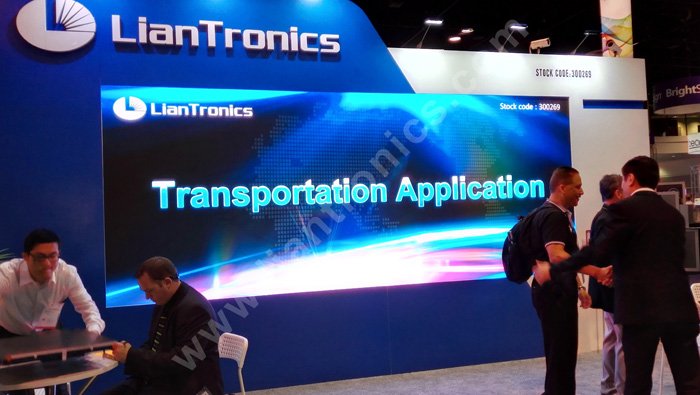 Meanwhile, LianTronics exhibited others hot-sale products for outdoor and indoor rental applications, including R3Ⅱ,RX7 and RK8, also exceeding the expectation and fully satisfying the needs of customers. Designed as rental LED screens, the R series LED displays feature with extremely light and slim panel, perfect quality and convenient design which contribute to win the popularity among visitors.
LianTronics performed perfectly and received lots of praise from attendees at InfoComm 2015. Many visitors are seeking the parnership with LianTronics and we believe that we could achieve win-win situation from the cooperation. It's always LianTronics passion and mission that persistently provide the highest quality standard display products as well as making unreserved services available to every customers.