The InfoComm show, as the largest professional AV trade event in North America, exhibits thousands of the latest technologies, products and solutions for audio, video, display, lighting and staging, digital signage, networking and much more, which was grandly held at LasVegas Convention Center from June 8th-10th, attracting more than 1,000 exhibitors, and nearly 40,000 attendees from over 110 countries. The top-level exhibitors of different brands from all over the world gathered here to showcase their latest audiovisual technology that targets to various applications to satisfy the new marketing demand.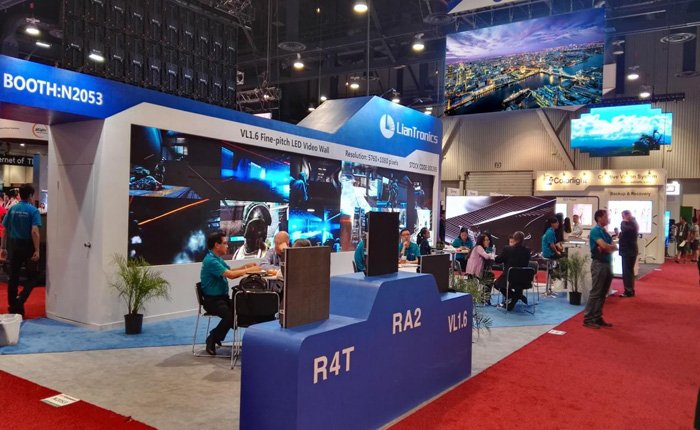 As a leading LED display manufacturer and LED display solutions provider, Liantronics attended and highlighted the Infocomm show by showcasing the innovative and hot-sale LED display products, consisting of new generation smart LTV129, ultra fine-pitch VL1.6, rental and outdoor LED display R4T and newly-launched rental product RA2. To better demonstrate the products, the individual panel of R4T,RA2 and VL1.6 were displayed on the showcase at the left side of the booth. When the visitors stopped by to see the products at Liantronics booth#N2053, professional sales and engineers gave detailed explanation toward technology and principle. With the perfect combination of technology and creativity, the LED displays captured the great attention and won much acclaim from many potential professional customers.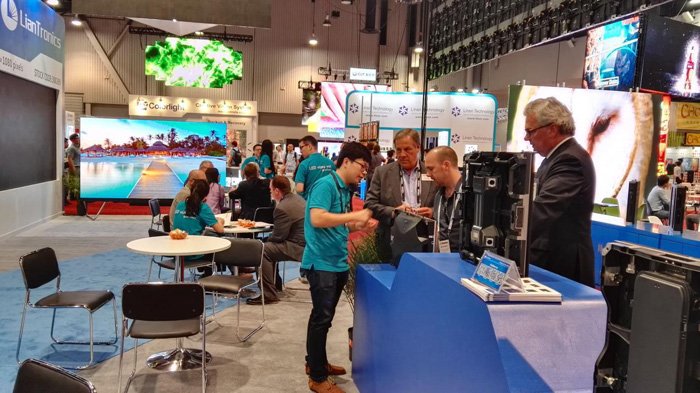 It was the historical moment that newly-launched rental product RA2 debuted at LianTronics booth. LianTronics RA2 possesses a pixel pitch of 2.9mm and features convenient and rapid maintenance, ultraseamless connection and high stable operation. Mere 104mm panel depth and 8kg panel weight facilitated the installation process. With the independent design of module, frame and control box, only 1/3 of installation time is cost compares with traditional structure. Besides, adopting the foot bar design, workers with safety waist-rope can climb the panel during the maintenance process, which could help to solve safety concern for the rental installation. "RA2 owns the ingenious design," commended by one customer, "It is really one of the best choice for rental use". RA2 could effectively deliver delicate image, which can meet the market positioning of the retail applications such as shopping malls, stage, with its stylish appearance and high definition picture.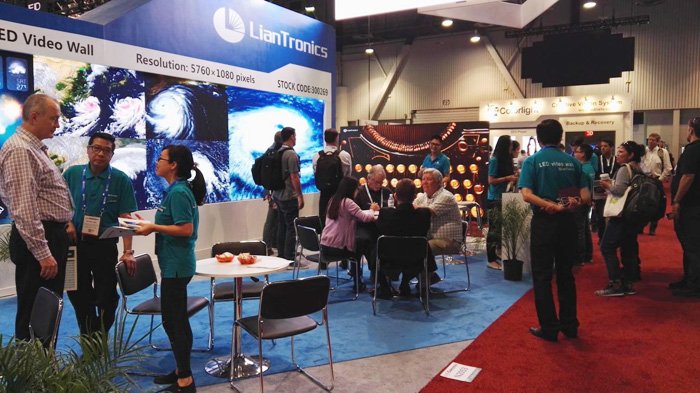 We would like to extend the sincere gratitude to everyone that has visited our booth at Infocomm 2016! LianTronics will keep on providing high-quality products and humanized service that rewards our honored customers and brings pride to our employees and community. With our world-leading manufacturing techniques and talented engineers and service team, we are sure you get the best LED display for the right price. See you next year in Orlando Infocomm 2017!
A brief video introduction about RA2 at LianTronics booth in InfoComm Show 2016.
Click here: http://www.ravepubs.com/rave-video/infocomm-2016-liantronics-features-its-ra2-indoor-screen/