On November 3, 2016, Integrated Systems Russia 2016, which lasted for three days, came to a successful ending in Moscow. Integrated Systems Russia is the biggest audio-visual exhibition to exchange experience and to establish business connection. Many worldwide well-known enterprises joined the exhibition and showcased the latest and innovative products here and thousands of audiences were gathering here to experience the visual appreciation. As a giant LED display provider, LianTronics showcased its latest and hot-selling LED products and made a perfect performance in ISR 2016.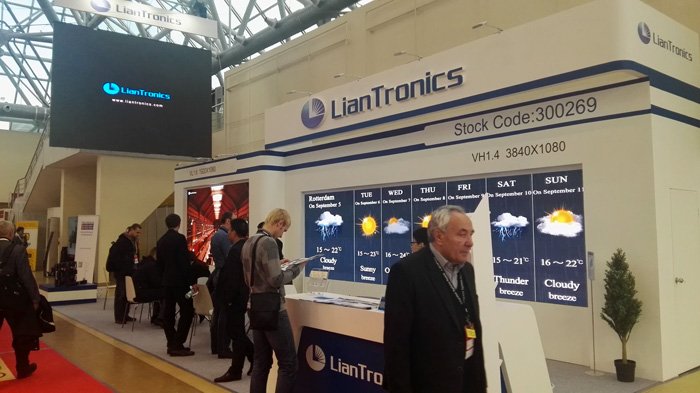 LianTronics concise and exquisite booth attracted many visitors.
In recent year, fine pixel pitch LED displays are increasingly becoming popular in LED market. On ISR 2016, LianTronics brought the most innovative fine-pitch LED display product of the LED industry, including VH1.4 and VL1.6 which were installed as video wall, broadcasting vivid, nature and fresh image that focused on different indoor applications. LianTronics fine-pitch LED video wall attracted tremendous attention this year. With many wonderful characteristics, such as excellent display effect, cost-efficiency, easy and convenient front maintenance and high-end and protective design, LianTronics fine-pitch LED video wall could satisfy the need of jumbo size, high definition and high brightness in conference room, commanding center, surveillance room, exhibition hall, commercial plaza and so on.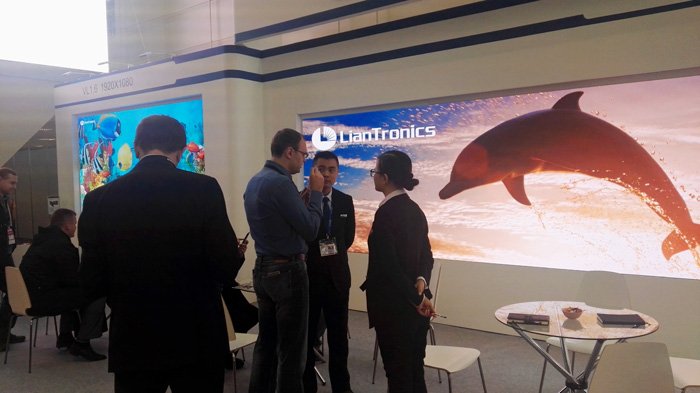 Sale managers introduced the product with detail to customers.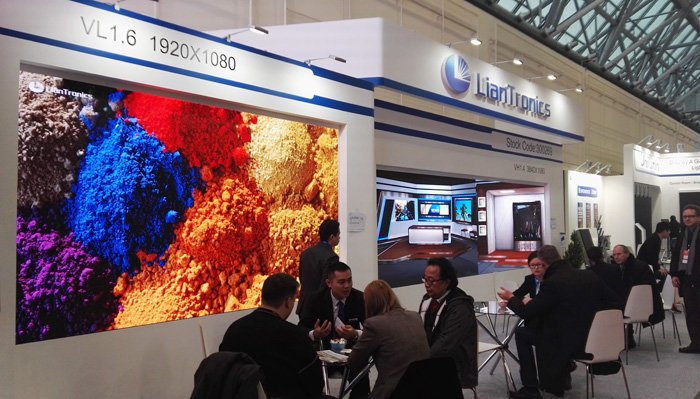 LianTronics booth was always full of professional customers who were searching for business connection.
Meanwhile, Liantronics outdoor rental LED display R4T hung above the booth , becoming the one of the most sparkling screen and attracting many passersby. Sharp and natural image of R3 brought superb visual experience to customers. With carefully crafted panel and seamless design, R4T could help you build the most attractive and amazing show.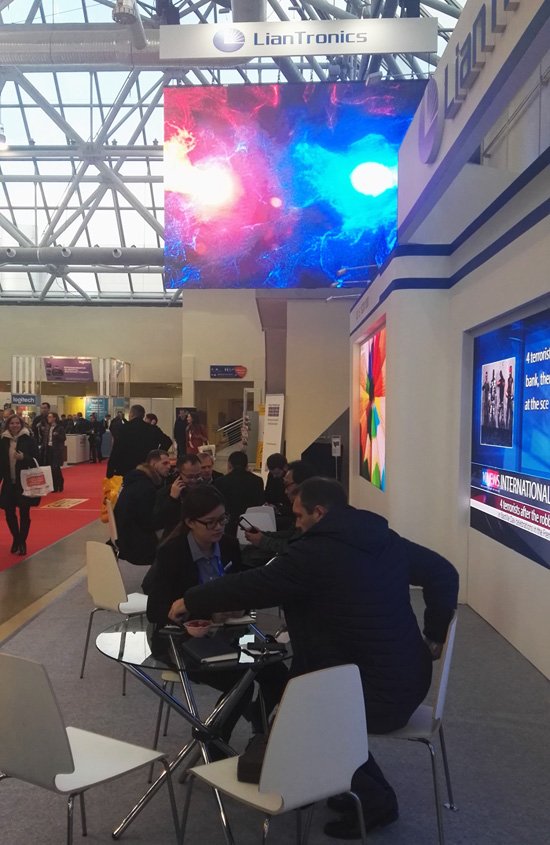 R4T hung above booth was really spectacular
Fine pixel pitch LED display is witnessing increasing demand in Russian market where has been an important exported market for LianTronics. During ISR 2016, LianTronics has showed favorable corporate image and product strength, which has earned more worldwide customers' support and trust. As usual, "Customized Production + Perfect Service" is the LianTronics business model. LianTronics will continue to product the innovative and high-quality LED display on the basis of past achievements, to make more contribution to world LED industry.