The wind in November is bitterly cold in Moscow, and people could not help tighten their coat in the open air. However, coldness still can not stop people's enthusiasm towards attending ISR show, and LianTronics tried to melt up this city of ice and snow with its advanced fine-pitch LED display solution.
LianTronics booth attracted lots of visitors.
It's LianTronics 3rd time to anticipate in ISR and we were exhibiting VL1.6 fine-pitch LED video wall, LTV129 smart cloud TV and RA3T outdoor rental solution. LianTronics classic VL series with a high resolution brought a fabulous visual experience to attendees. The screen simulates the applications in surveillance, broadcasting, transportation, energy sources, exhibitions and conferences on-site to bring attendees to the application scenario. Made with aluminum alloy, the 7.8kg light-weight panel is with easy-to-install and an easy-to-maintain (front-accessible) design. Module, power supply, receiving card, conversion card, and cables between panels can all be maintained from the front, and the panels can be assembled quickly and efficiently into the common display ratio of 4:3 or 16:9.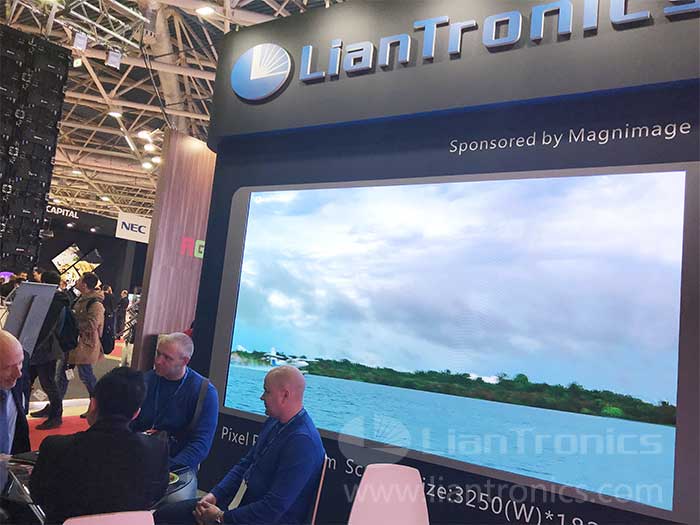 With the small pixel pitch of 1.4mm, LianTronics 129" diagonal smart cloud LED TV can be a perfect display terminal in TV studio. It supports for on-site installation and inter-connection between PC, mobile phone and ipad. What's more, its price is less than 1/3 of that of the same-sized LCD display, which is quite competitive.
VL series and LTV129 all meet the high-end indoor requirement while RA3T(PH3.9mm) can satisfy your extra-clear need for outdoor event. The upgraded RA3T fine pixel pitch outdoor rental solution adopts all-black LED lamps. Thus, it can bring you super high contrast ratio at 8000:1. Furthermore, RA3T supports for curved assembly which is able to meet clients' various creative demands. RA series employs high-precision die-casting aluminum structure, light-weight panel as well as modular design. Moreover, it supports for front and rear maintenance which can enable the engineers finish the change of modules in a few seconds. The patented fast-lock design makes it capable of toolless installation. Above all, RA series can be a perfect choice for stage shows, exhibitions, broadcasting situations and events.
Miss the opportunity to attend ISR 2017? Hope to see you at ISE 2018 at Amsterdam! New products and fresh design will definitely open up more gates of cooperation in different fields!