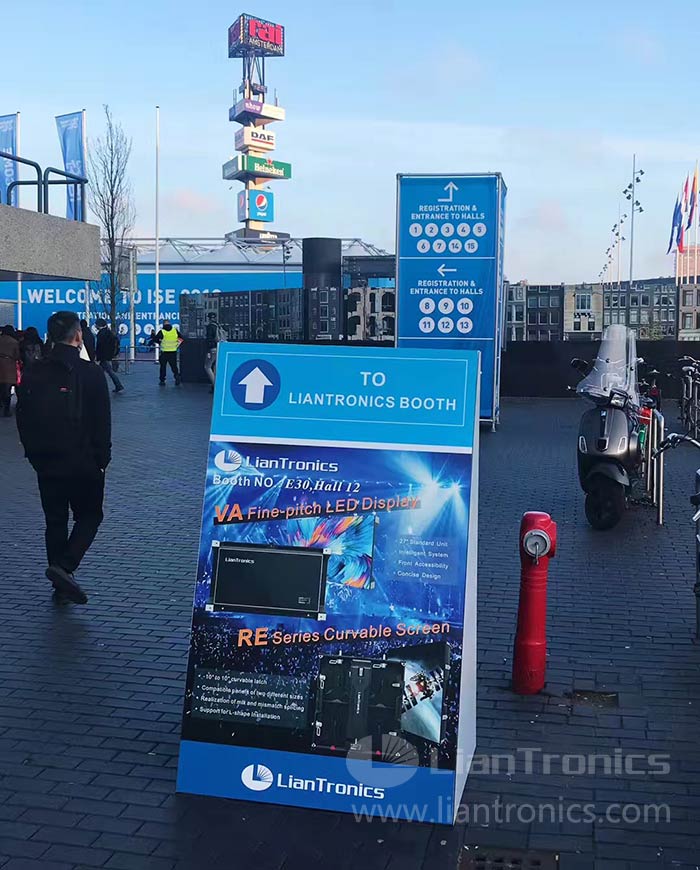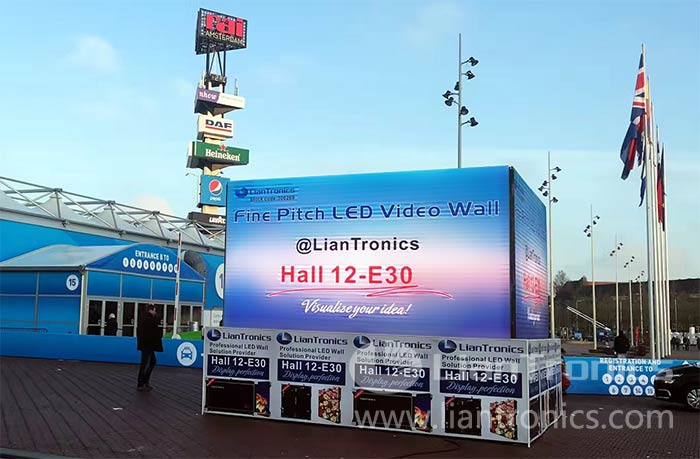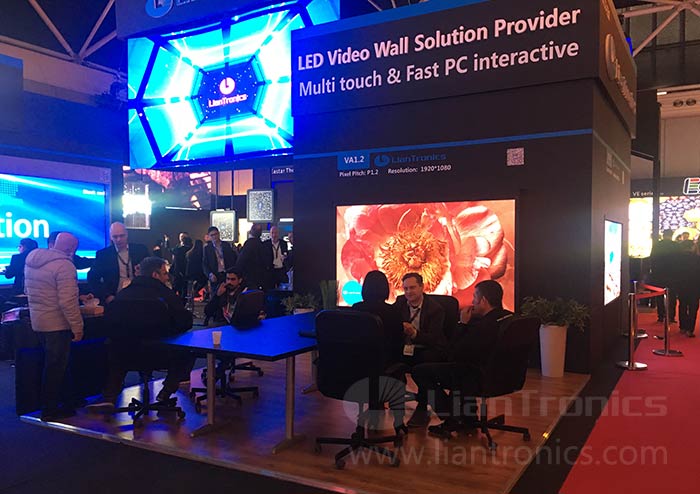 LianTronics, the leading fine-pitch LED display solution provider in China, launched the new generation fine-pitch LED displays at Integrated System Europe(ISE) 2018, including VA series fine pitch LED video wall with infrared multi-touch technology and RE series curvable LED screen for rental.
"LianTronics is an old friend to ISE, we have got involved into this show since 2012. For us, it's an unprecedented opportunity to showcase the latest cutting-edge technology of LED video wall solutions for both channel customer and end-users. Furthermore, our company has rich experience of investing domestically and abroad, so ISE also creates a great platform for us to start a joint business to win more market together with the European partners", said Faye Peng, the manager of Marketing Department.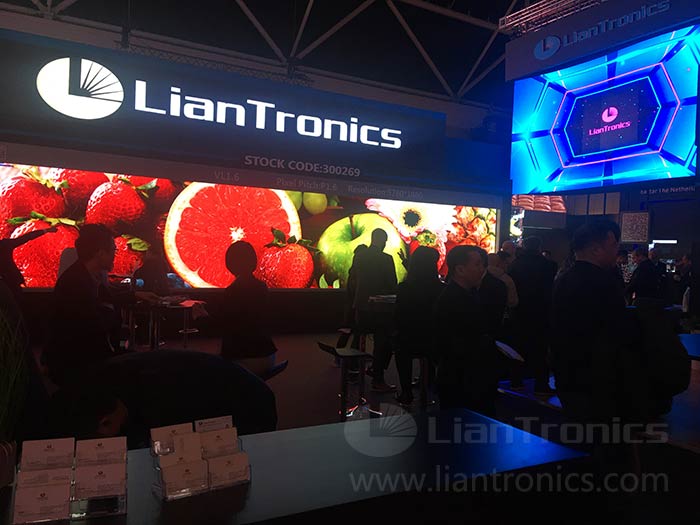 Industry-Leading LED Video Walls
VA Series Fine-pitch LED Video Wall(P0.9mm/1.2mm)
With standard 16:9 panel, VA series can precisely achieve HD/FHD/UHD/SHV resolution just right, and with a 27" diagonal panel size it can become a perfect substitute for any existing 54" or 108" LCD screen. The whole VA installation procedure is as quick as block-building. It supports for both front and rear installation with a panel thickness of only 100mm. Additionally, module, power supply, receiving card, conversion card and cables between panels can all be maintained quickly from the front without professional skills. Moreover, calibration data retrieval function and worry-free parameter back-up function are both embedded in every smart module. Power system, temperature and other working status are automatically monitored to achieve intelligent management. Last but not least, it supports AC-DC and DC-DC two different power schemes to ensure a safe and stable use and best fit your project need.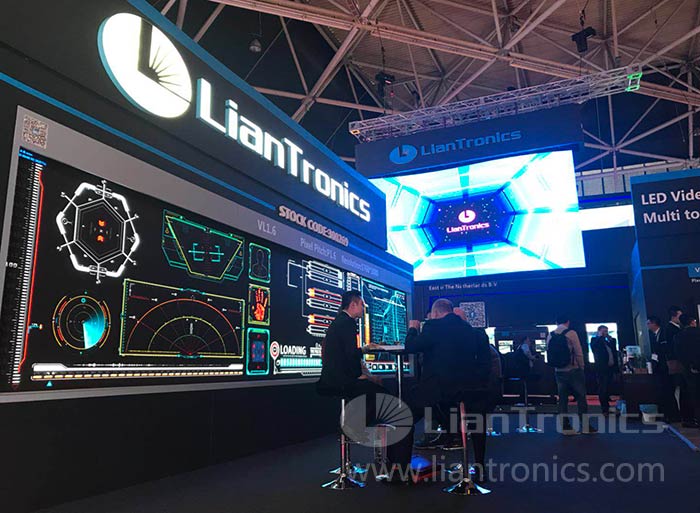 RE Series Curvable Rental Screen(P2.6mm)
RE series is designed as a fine-pitch curvable screen for rental. By the use of only one type of panel, RE series can realize your valued creations by being assembled into concave and convex screens from -10°to 10°, and the minimum radius of a circle screen is only 2.85mm long. In addition, its user-friendly design allows you maintain modules and power box from both front and rear according to actual requirements. Besides, there are two different sizes panels which can be assembled together, and more surprisingly the super compatible RE panels also supports for mismatch splicing from all directions.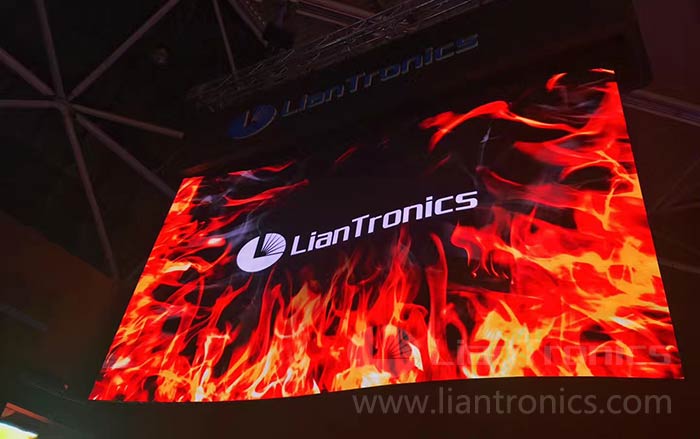 Interactive Multi-touch Technology
As the latest technology, infrared multi-touch can reach the highest precision of object detection, provides fast response time and perfect image clarity. The technology is based on sensors that emit infrared light and are located in the corners of a screen. The sensors create a framework of infrared beams in front of a display. Once the grid is broken by a finger touch the sensors detect a point of contact. That latest technology is implemented in LianTronics VA series interactive LED video wall which brings attendees a novel experience at ISE2018.
The future of touch screens will see the abundance of new technologies that will be shaped by customers' needs, retail, corporate, museums, broadcast - these are all industries on the cutting-edge.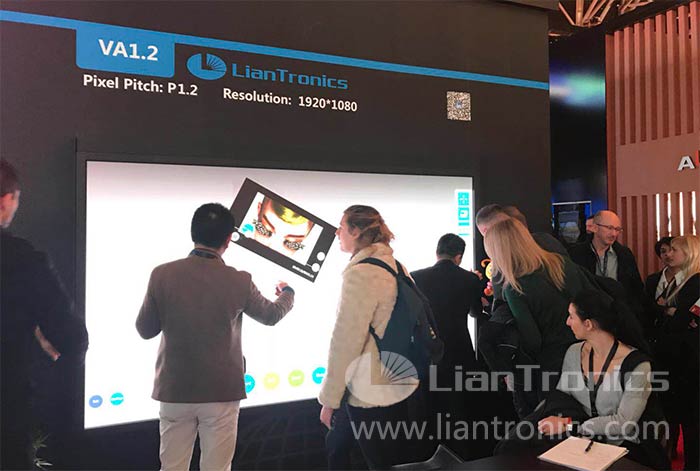 Classic VL Fine-pitch LED Video Wall & RA High-end Rental Solution
LianTronics classic VL series with a high resolution brought a fabulous visual experience to attendees. The screen simulates the applications in surveillance, broadcasting, transportation, energy sources, exhibitions and conferences on-site to bring attendees to the application scenario. Made with aluminum alloy, the 7.8kg light-weight panel is with easy-to-install and an easy-to-maintain (front-accessible) design. Module, power supply, receiving card, conversion card, and cables between panels can all be maintained from the front, and the panels can be assembled quickly and efficiently into the common display ratio of 4:3 or 16:9.
RA series employs high-precision die-casting aluminum structure, light-weight panel as well as modular design. Moreover, it supports for front and rear maintenance which can enable the engineers finish the change of modules in a few seconds. The patented fast-lock design makes it capable of toolless installation. Above all, RA series can be a perfect choice for stage shows, exhibitions, broadcasting situations and events.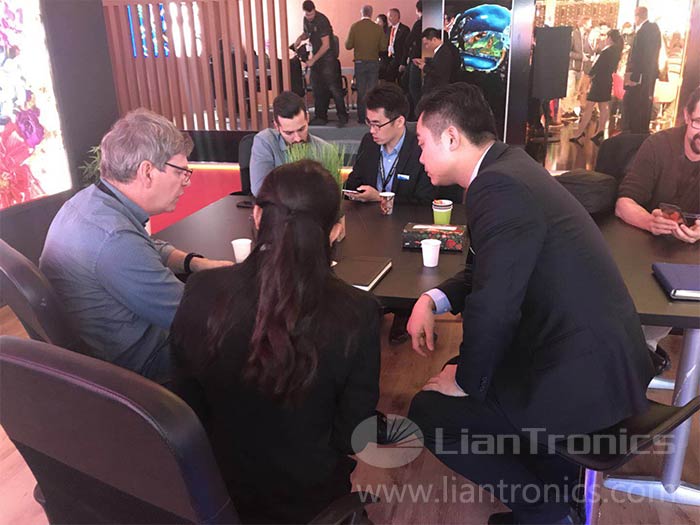 High product quality and good service network earned us customers' trust, and many of them expressed their will of further cooperation. LianTronics will insist on creating more and more business value for clients and taking the responsibility of being a pioneer in the industry!