LianTronics, a world leading digital display solution provider, launch Mini-LED at InfoComm 2018. Compared with traditional SMD technology, Mini-LED gets rid off the size limitation to realize tighter pixel pitch below 1mm.
Metal black design of Mini-LED acquires higher contrast ratio and lower glossiness than SMD and COB technology. Because the adhesiveness between leds and PCB has been increased over 8 times than before, Mini-LED panels possess higher protection level and stability. Thus the situation of led damage will not possibly occur during transportation and installation. With this great stability, Mini-LED can be put into broad range of applications such as fine-pitch rental occasion, multi-touch led screen and more. Moreover, due to Mini-LED's special design of leds, the difficulty of replacing failed leds will be decreased to a large extent, which saves more time during maintenance.

"It's a great chance for us to make the first debut of Mini-LED at InfoComm 2018," said Liu Xiaowei, general manager at LianTronics. " LianTronics always persist in bringing China innovation to the world stage and display perfection."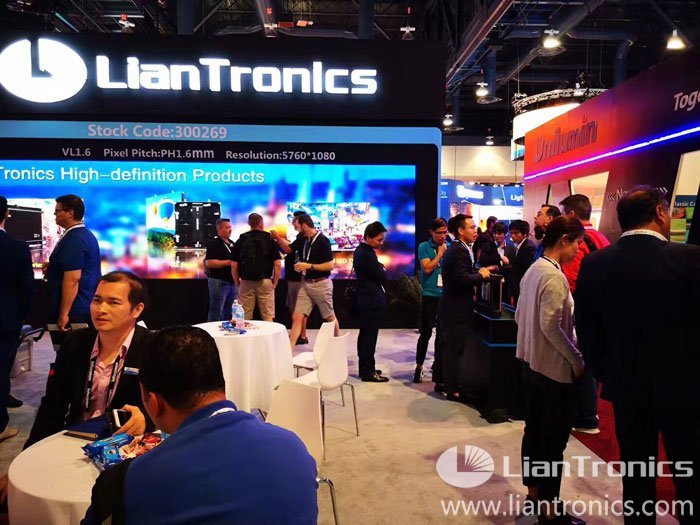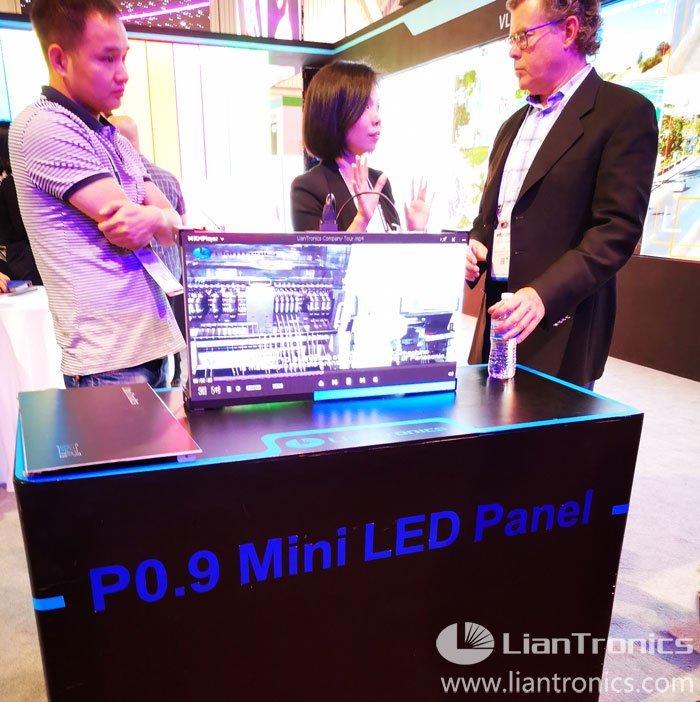 Industry-Leading, Fine-Pitch LED Video Walls
At InfoComm 2018, LianTronics is exhibiting our industry-leading fine-pitch LED video walls designed for the special gamut of broadcasting applications:
·LianTronics P0.8 screen is absolutely the star product of the exhibition this time, and it attracts all the attendees and clients with unprecedented display effect to become a perfect substitute of traditional LCD and DLP. As we all know, in the LED display industry, even a 0.1mm tighter pitch is a big challenge to a number of LED manufacturers. However, LianTronics has put V0.8 into mass production and even large projects long ago with its rich R&D strength and precise manufacturing technology.



·With standard 16:9 panel, VA series can precisely achieve HD/FHD/UHD/SHV resolution just right, and with a 27" diagonal panel size it can become a perfect substitute for any existing 54" or 108" LCD screen. The whole VA installation procedure is as quick as block-building. It supports for both front and rear installation with a panel thickness of only 76mm. Additionally, module, power supply, receiving card, conversion card and cables between panels can all be maintained quickly from the front without professional skills. Moreover, calibration data retrieval function and worry-free parameter back-up function are both embedded in every smart module. Power system, temperature and other working status are automatically monitored to achieve intelligent management. Last but not least, it supports AC-DC and DC-DC two different power schemes to ensure a safe and stable use and best fit your project need.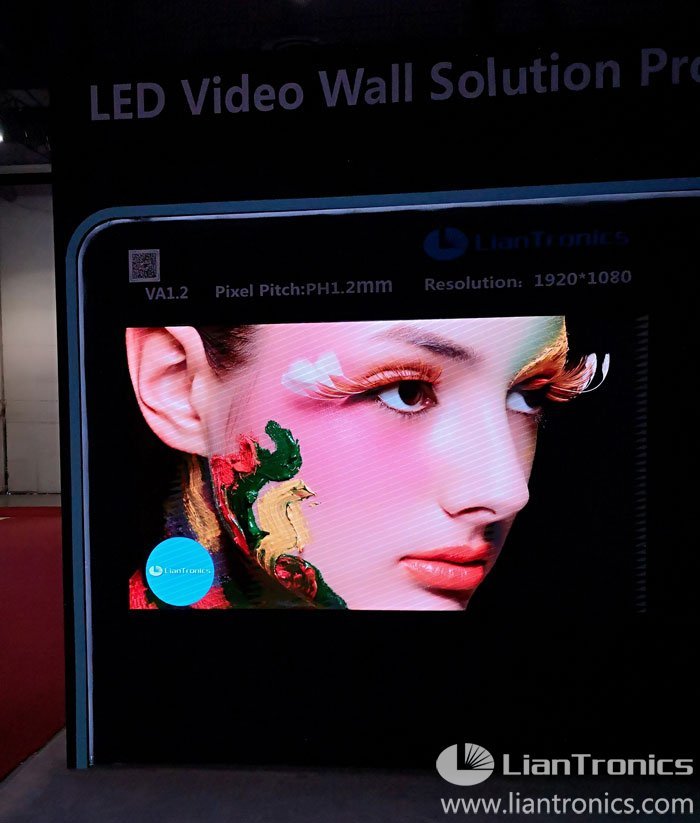 RE series is designed as a fine-pitch curvable screen for rental use. By the use of only one type of panel, RE series can realize your valued creations by being assembled into concave and convex screens from -10°to 10°, and the minimum radius of a circle screen is only 2.85 meters long. In addition, its user-friendly design allows you maintain modules and power box from both front and rear according to actual requirements. Besides, there are two different sizes of panels which can be assembled together, and more surprisingly the super compatible RE panels also support for mismatch splicing from all directions.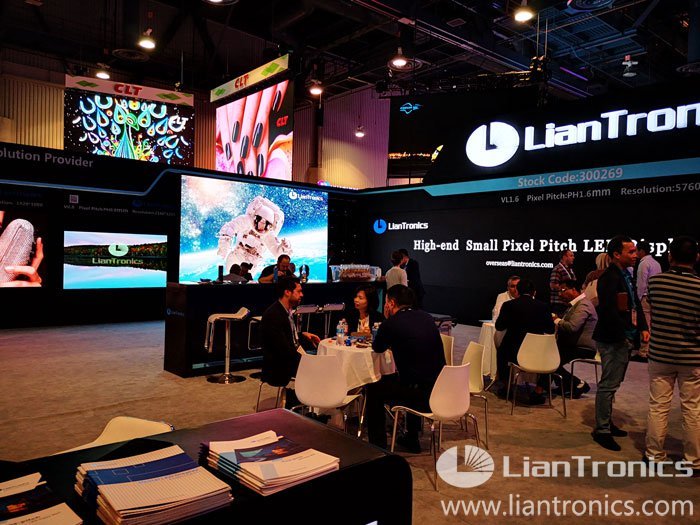 LianTronics classic VL series with a high resolution brought a fabulous visual experience to attendees. The screen simulates the applications in different fields to bring attendees to the application scenario. Made with aluminum alloy, the 7.8kg light-weight panel is with easy-to-install and easy-to-maintain (front-accessible) designs. Module, power supply, receiving card, conversion card, and cables between panels can all be maintained from the front as well, and the panels can be assembled quickly and efficiently into the common display ratio of 4:3 or 16:9.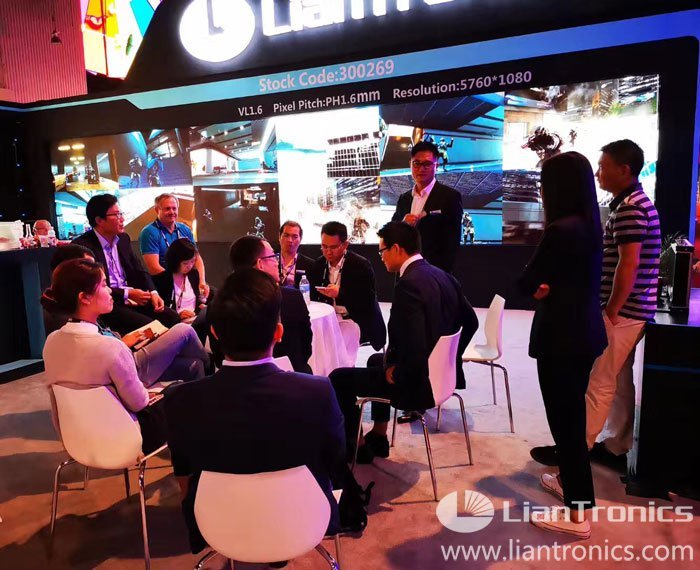 Visitors to InfoComm 2018 can get a close look at LianTronics LED display solutions from June 6-8 at Booth #N2464. Do not miss it!
At the same time, LianTronics join with NATIONSTAR to hold Mini-LED release conference successfully today. It's a historical moment that two innovative enterprises create together to bring revolution to LED display industry.