LianTronics has brought the top notch LED display technology at IBC 2018.
IBC is the world's most influential media, entertainment and technology show. And this time, IBC2018 has attracted more than 57,000 attendees from 170 countries around the world, exhibiting more than 1,700 of the world's key technology suppliers and showcasing a debate-leading conference.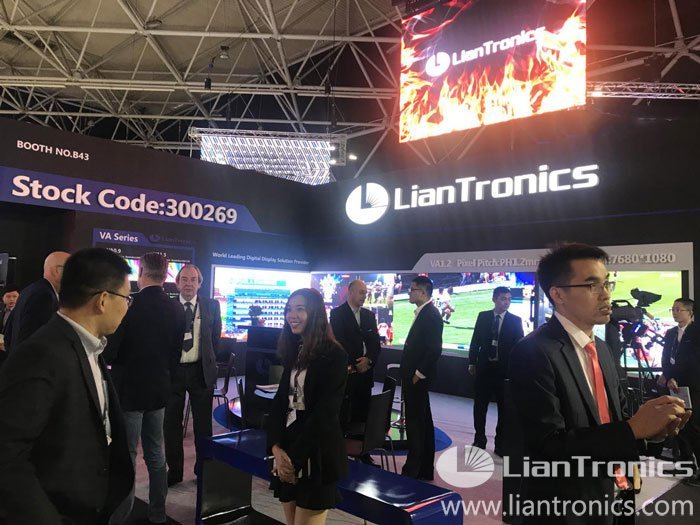 In this year, LianTronics has brought the top notch LED display technology--- VA Series 16:9 fine-pitch intelligent panels and RE Series curvable screen for rental to all IBC attendees.

The recently launched VA Series is a great step forward in fine pixel pitch of LED display technology. The VA comes in die-casting aluminum panels of 600 x 337.5mm, rendering a 16:9 ratio with a 27'' diagonal, which is perfect for the replacement of the existing 27 and 54 inch LCD video walls. With pixel pitches of 0.9, 1.2, 1.5 and 1.8mm, it is easy to achieve a full HD, 4k or 8k resolution display. The VA panel design allows real front or rear maintenance with several options for installation; stacking, wall mounting, hanging and even concave splicing. With a panel depth of only 76mm, the installation space on site is kept to a minimum. Unique among manufacturers, Liantronics has its own in-house CNC workshop, ensuring that the precision and quality of the panels is strictly controlled to the highest standards. The exceptional flatness of the panels allows a distortion-free viewing angle of 160 degrees horizontally and vertically. With great heat dissipation, no fans are required, which can keep noise levels to a very low level. Optionally, for an even quieter operation, the DC-DC power scheme can leave the centralized power supplies out of panels. Additionally, the smart modules have a memory to store calibration and parameter data to achieve intelligent management. Besides, hot double backup for signal and power supply, automatic and constant monitoring of power supplies, temperature, and other operation parameters all ensure a continuous display reliability.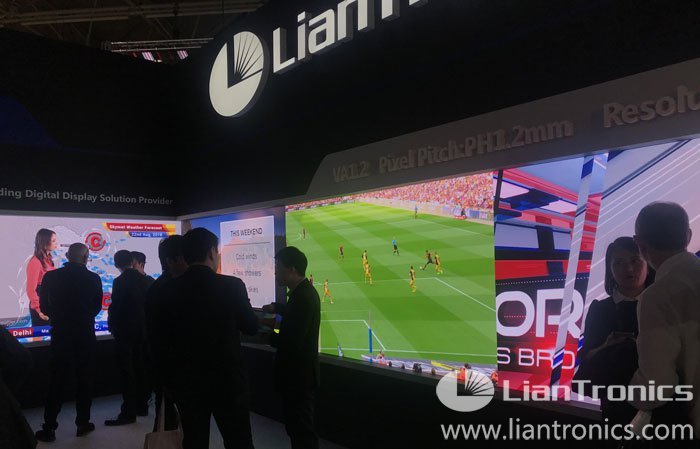 RE Series(PH2.6/3.9mm) is designed as a fine-pitch curvable screen for rental use. By the use of only one type of panel, RE Series can realize your valued creations by being assembled into concave and convex screens from -10°to 10°, and the minimum radius of a circle screen is only 2.85 meters long. In addition, its user-friendly design allows you maintain modules and power box from both front and rear according to actual requirements. Besides, there are two different sizes of panels which can be assembled together, and more surprisingly the super compatible RE panels also support for mismatch splicing from all directions.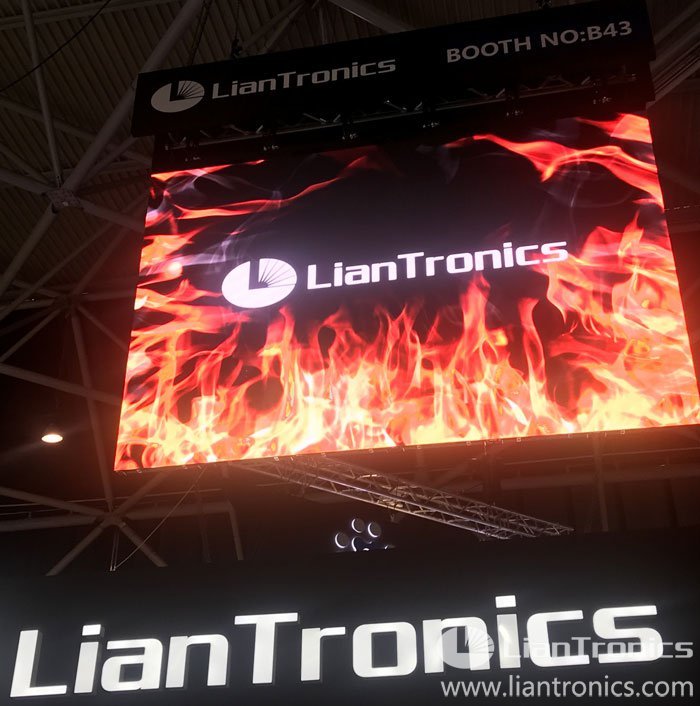 It's thrilled that LianTronics has added AR technology to LED display solution at IBC 2018 to renew the choices of broadcasting studio.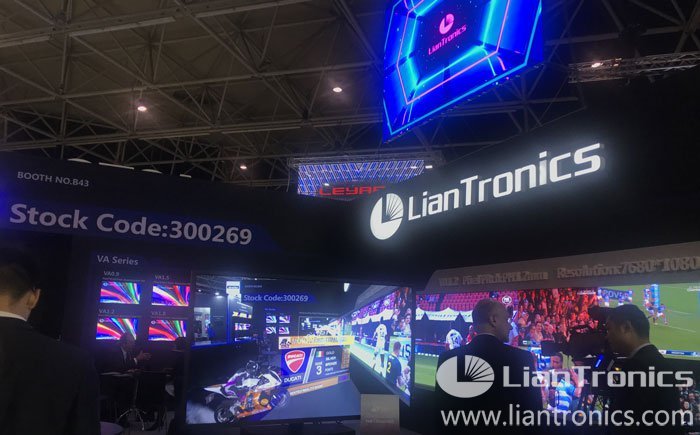 The high-level industry standards of LED display for broadcasting application requires high performance. First, during shooting, the LED screen is required to display stably and consistently without any flicker. LianTronics fine-pitch LED display featured with high refresh rate and PWM(Pulse Width Modulation) function is able to eliminate flicker to ensure the finest picture quality. Second, the color temperature of the LED display should be between 3000-3600K according to the requirements of radio and television industry, because the image color can be completely presented within this low color temperature range. Based on this, LianTronics can provide on-site service to match the parameter with actual color temperature read by camera to make sure that color of light, background and TV host can all be shown properly.
Being able to quickly deliver content will be vital to create a valuable user experience, especially in a breaking news situation. LianTronics fine-pitch LED display solution supports for working with virtual studio including interactive design environment, rendering engine, camera tracking system, and Chroma-key processor to broadcasters. Combined, these offerings offer the image quality, real presentation and flexibility required for modern-day programming.

LianTronics Cases of Broadcasting Studio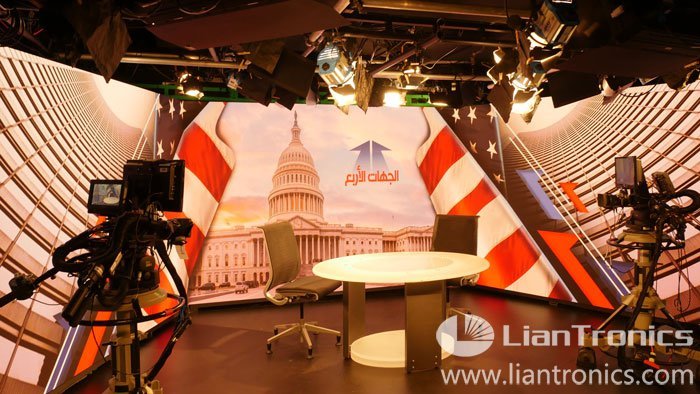 Broadcasting Studio,Washington DC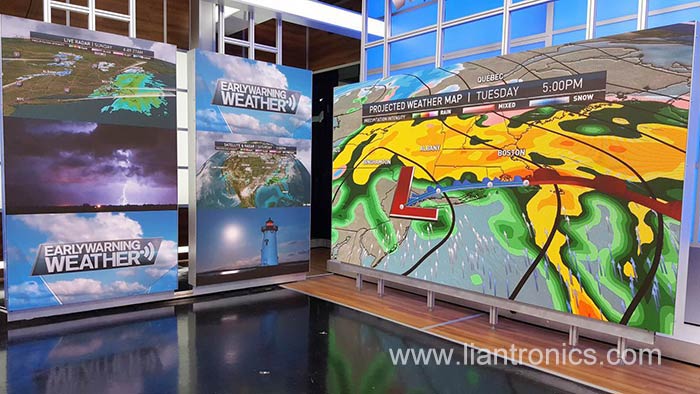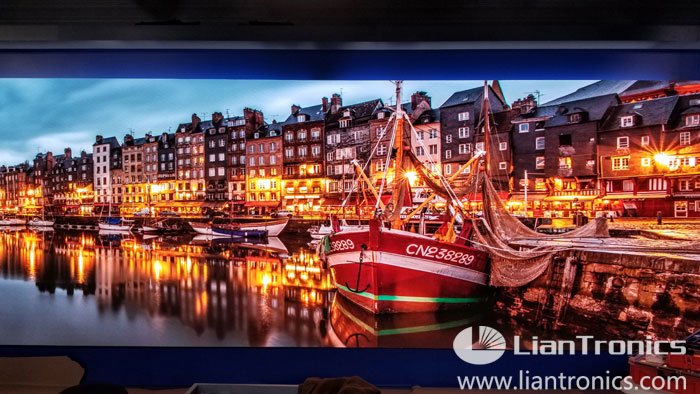 LianTronics VL1.6 Fine-Pitch LED Display for a Broadcasting Studio, USA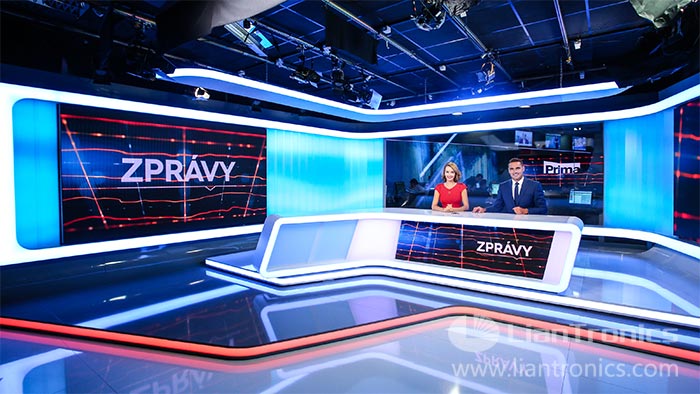 LianTronics VH1.2 Fine-Pitch LED Display for Czech Prima Televize

There is still chance to have a close view with your own eyes! Please come to Booth No.11-B43 at RAI, Amsterdam.