At LED China 2018, LianTronics has showcased its new top notch tech to the LED display industry--- Super Mini LED solution, SSS(Super Strong Shield) technology and FM Series commercial LED display.
LianTronics Super Mini LED First Debut
In recent years, high-and-mid-end NPP LED display market has embraced an explosive growth with the development of fine-pitch LED display technology. In the meantime, some industry pioneers with a keen market sense are actively seeking breakthroughs. Mini LED arose in this situation, considered as the mainstream of module technology and has become the trend in UHD LED display field. As the world leading LED display provider, LianTronics has spent intense attention on product development and innovation. Now, we have made breakthrough achievement. LianTronics super Mini LED display has adapted all-in-one packaging technology. Compared to traditional SMD and COB LEDs, LianTronics Mini LED display is with breakthrough optical performance and higher integration level. It's capable for getting rid of the size limit of traditional SMD technology and easily realize pixel pitches below 1.0mm.
RA1 Fine-pitch LED Display for Rental--- SSS(Super Strong Shield) Technology
RA1 fine-pitch LED display for rental has adapted LianTronics latest technology--- SSS(Super Strong Shield) , with which can realize damp proof, waterproof and dust proof. What makes it stand out of other protective tech is that it supports for maintenance for single LED and there is no different after repair as before. Besides, it can effectively eliminate moire effect, which has solved the big problem of broadcasting industry. Moreover, with pioneered "Integrated Protective Covers" design, independent design of module, frame and control box, "18bit+" low brightness and high gray level, LianTronics pulled rental LED display into "P1.X" era.
Classic VL1.2 Series Fine-pitch LED Screen
With super high definition of 7680*2160, seamless splicing, perfect performance, high precise case design and flexible appearance, LianTronics VL1.2 Series LED video wall attracted a number of attendees at this show. The wall-mounted front installation are ADA(Americans with Disabilities Act of 1990) compliant, complete front and rear maintenance available, intelligent module achievable, HDR supported, and power and signal double backup supported. All above advantages bring a brand new visual experience to customers.
Newly Upgraded RE2S Fine-pitch Rental LED Panels
LianTronics RE Series, the cost-effective LED display for rental is now the star product in overseas market. After launched, RE Series has won great admiration and acquired numbers of orders with its humanization design of panel structure. In the meantime, LianTronics keeps upgrading the product to cater the customer's demands. At LED China 2018, LianTronics team has showed many features of RE Series to attendees such as front maintenance, curved lock adjustment, rapid installation and dismantlement. Its great features and intelligent design have acquired much applause.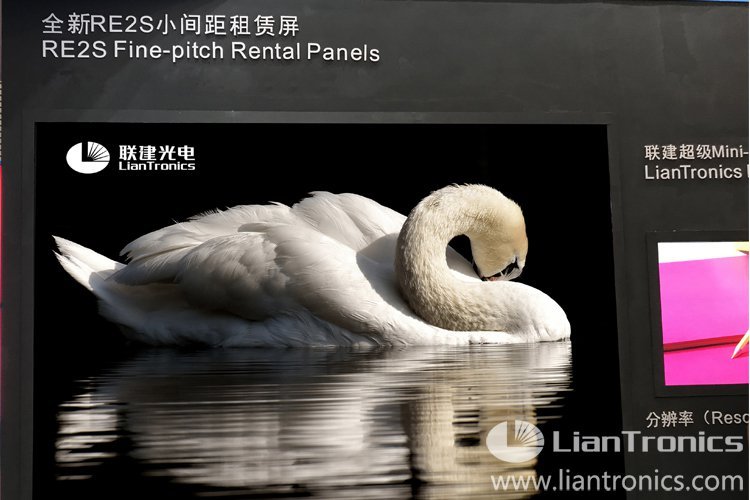 FM Series --- the World First 32:9 Commercial LED Display
Nowadays, LED display has won great favor from commercial display market for its flexible splicing and seamless display. LianTronics FM Series was launched at the right moment. Its innovative 32:9 panel can realize standard 16:9 splicing. With the weight of only 7kg(24kg/㎡)and no back structure, it's easy for wall-mounted installation. Simple and convenient installation supports for front and rear installation which make it perfect to be applied in various situations. At LED China 2018, the wind-mill design LED display has attracted eyes of lots of customers.