"New Retail Business" is becoming a trend in recent years, because online shopping still cannot replace offline shopping in the real experience of looking, hearing and feeling. With the continuous improvement of people's living standard, purchasing experience is getting much attention.
In traditional stores, retailers use posters to make the promotion of their products. However, these printed advertisements can no longer effectively attract consumers' attention. In order to solve this pain point, a number of retailers apply LED displays into their stores. LED displays technology is the most powerful visual engagement tool to attract audiences and boost business.
LianTronics PH2.4mm LED Display at RAFFLES CITY, Singapore
What will the era of "New Retail Business" bring to LED displays? The answer is unprecedented opportunities and great market value. "New Retail Business" creates real scene marketing through LED displays. It analyses and deals with big data to influence consumers' desire to purchase. LED display installed behind the store window is a crucial way for showcasing and promotion of products.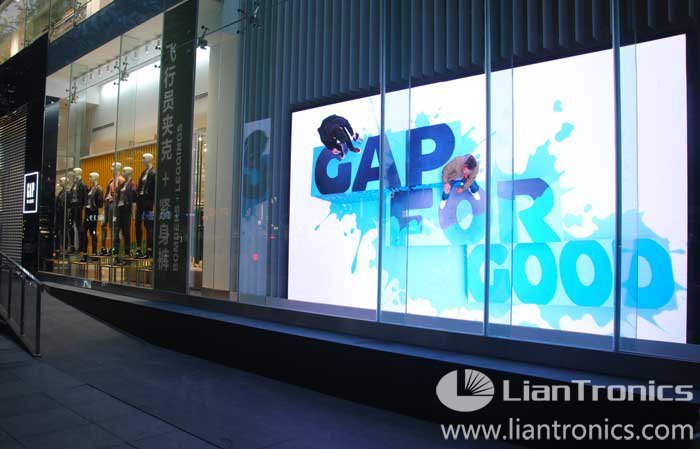 LianTronics PH2.5mm LED Display at GAP STORE, Shanghai
Although LCD now is still playing an important role in traditional stores and shopping mall, it's with the limitation of size. Thus, customers are unable to acquire the experience of the entire body when trying clothes and shoes. Fine-pitch LED display can perfectly solve this problem with its advantage of seamless splicing.
"New Retail Business" shortens the distance between sellers and customers. Every customer can link their mobile phone to the LED display. Moreover, LED displays show as a multi-touch media to provide virtual try-on for customers. By an easy click on the screen, the data matching will be automatically completed. In the future, the interaction between people and screen will absolutely be the trend.
"New Retail Business" not only bring opportunities but also great challenges to LED display manufactures. The experiential shopping represented by VR will increasingly rely on the display terminals. At present, LED display adopts the technology of interaction, big data cloud, VR and etc. Through the integration of the latest technology, the terminal scene of "New Retail Business" will cater customers' demands of customization and sense of design. And it will also innovate a brand new business space and vibe. It's an all-around challenge for the quality and features of the LED display.
LianTronics will enhance the brand strategies to embrace the cross-border integration with "New Retail Business" . Committed to "Display, Perfection", LianTronics look forward to brilliantly displaying your ideas and designs.