LianTronics 360° panoramic UHD LED large screen was installed in the hall of big data command center in Baiyun district, Guiyang, China's Big Data Valley.
As the core area of the national big data comprehensive test site, Guiyang has introduced many well-known large data enterprises at home and abroad, such as Apple, Dell, Google, Alibaba, Tencent, Huawei, and etc, aims to create "China's Big Data Valley". Nowadays, Guiyang is growing into the "Big Data" city of China and even the world with a booming trend. Baiyun district, located in the middle of Guiyang city, is one of the largest aluminum industry bases in China. Recently, LianTronics 360 degree panoramic LED display system is put into operation in the big data command center of Baiyun district, Guiyang, which lays a solid foundation for the future development of "Big Data" management and plays a positive role in promoting the rise of "China's Big Data Valley".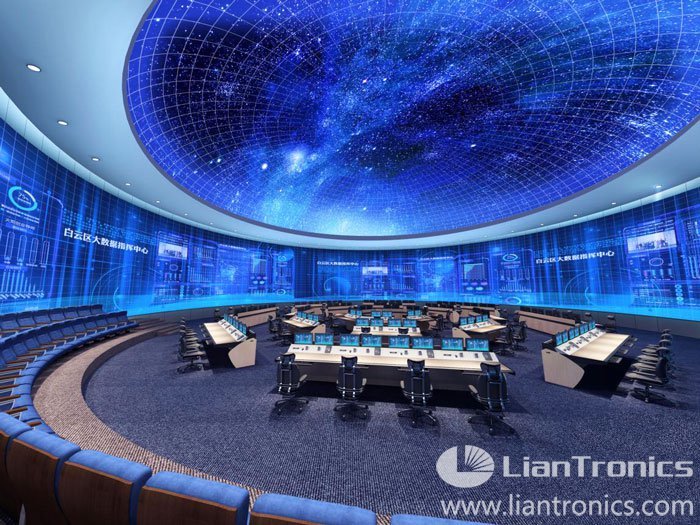 Big data command center in Baiyun district is a platform to integrate monitoring information from the public security, communities, towns and urban management departments to conduct unified dispatch and command of the ecological environment, city appearance, traffic order, comprehensive public security and other works in the district. LianTronics UHD LED large screen was installed in the hall of the command center with high reliability, and the 400㎡ LED screen resolution of 33600×1824 pixels points. The spectacular 61.28 million pixels as well as 360 ° precision panoramic splicing has to achieved the cutting-edge function and performance level of LED display system.
The command center plays an important role in public security, traffic, urban management, environmental protection, and power supply dept. LianTronics stands out for its leading position in the field of LED display and senior professional experience under the strict screening criteria and layers of assessment. Finally, LianTronics finished the project successfully by offering a project team and tailored solutions according to the special needs of the command center.

First, the large area of 360 ° panoramic screen brings a brand new visual experience. Second, the system supports multiple signal input to satisfy the needs of multi-screen linkage communication function. And it is capable to switch between different interfaces in real time. Third, the UHD resolution and stable running broadcast control system can accurately and timely provide specific data of each department, video monitoring and other information to the commanders. Last but not least, the large screen adopts the third generation of intelligent electronic spraying technology which can enhance the contrast ratio to a great extent and the industrial chroma and color calibration technology. The intelligent brightness adjustment will cause no fatigue even after long time of watching.
With the continuous development of China's digital industry, "Big Data" intelligence will certainly promote the urban governance system, LianTronics will grasp the development opportunity to focus on LED professional technology breakthrough and innovation.