Recently, LianTronics fine-pitch LED video wall solution was selected with great honor for Czech Prima Televize broadcast studio. With 1.2mm tight pixel pitch, four sets of LianTronics VH1.2 ultra HD LED walls are installed perfectly to match the newly-decorated broadcasting studio.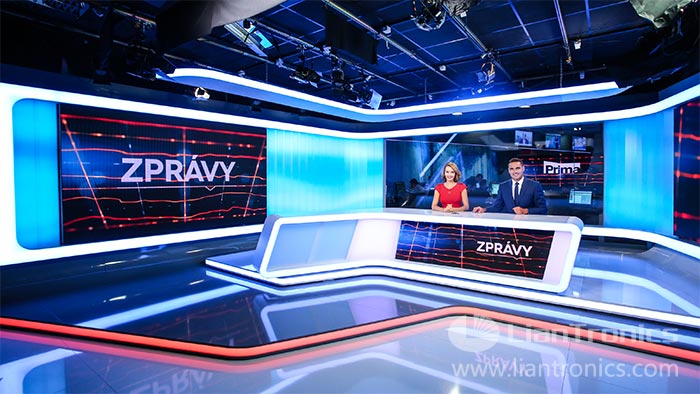 Made with aluminum alloy, the 9kg VH light-weight panel is with easy-to-install and easy-to-maintain (front-accessible) design. Module, power supply, receiving card, conversion card, and cables between panels can all be maintained from the front. Additionally, the special designed panel can be installed from front as well, which makes it more adaptive to the condition with limited space.
The high-level industry standards of LED display for broadcasting application requires high performance. First, during shooting, the LED screen is required to display stably and consistently without any flicker. LianTronics VH series fine-pitch LED display which features with high refresh rate and PWM(Pulse Width Modulation) function is able to eliminate flicker which will result in the finest picture quality, and fulfill all the request of studio production including zoom, close shot, color temperature, white balance, etc. Second, the color temperature of the LED display should be between 3000-3600K according to the requirements of radio and television industry, because the image color can be completely presented within this low color temperature range. Based on this, LianTronics can provide on-site service to match the parameter with actual color temperature read by camera to make sure that color of light, background and TV host can all be shown properly.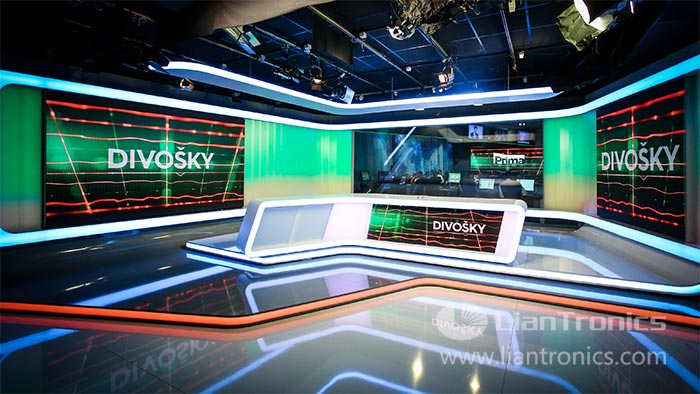 Being able to quickly deliver content would be vital to creating a valuable user experience, especially in a breaking news situation. LianTronics fine-pitch LED display solution supports for working with virtual studio software including interactive design environment, rendering engine, camera tracking system, and Chroma-key processor to broadcasters. A virtual studio is a television studio that allows the real-time combination of people or other real objects and computer generated environments and objects in a seamless manner.
"LianTronics VH1.2 make the shoot looks fabulous and offers us a great number of choices and amazing perspectives. We were surprised by the finished project and VH1.2 allows us to make our imagination come true", declared by a producer of Prima Televize.
Besides the application in broadcasting studio, LianTronics fine-pitch LED wall is also an ideal display terminal for conference room, commanding center, control room and surveillance center.